Official Statements
A witness statement is basically a document that shows the assertion of a witness. The statement can be about some situation or any legal case or hearing in court. This statement is generally used to support a person against whom any case is filed. The statement can be proved very supportive and helpful in the study of a case, it makes the judgement easy. In order to bring a witness in court or to take his statement you have to prepare a witness statement.
There is no structured format for witness statement but it should be written on A4 paper and it should be typed nicely without any error. It can also be hand written but care should be taken to avoid human error. It must also contain the full name of a witness, his address and his occupation in detail. It must be in 4 to 5 paragraphs. Each paragraph should be dedicated to one idea or point of view. At the very last page of witness statement there must be the signature of a witness along with the mentioned date.
The witness statement must include only that he saw or heard in person rather than mentioning some rumors or gossips. It must also contain the information about the employment of a witness as to where and when he was employed .If a witness refers to some document in his statement then he must also attach this document along with the statement. The first page should be labelled as A and last page should be labelled as B in case of multiple pages.
Preview & Details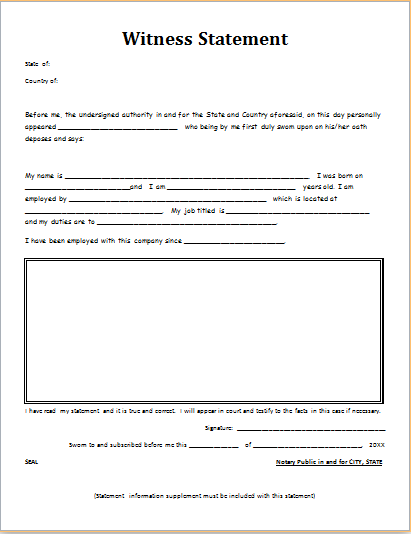 Witness Statement Template
File Size: 24 KB mobile [Android+iOS] & iPad
Download Word (.doc) 2007 & 2007+