In different organizations, employees need to request for leave in a formal way. The same is the case with students and faculty members of institutes for high education. A formal process is involved through which an individual applies for leave. First, an absence request form has to be filled out. Various organizations have their own personalized absence request forms. These are available to the employees in their offices upon request. On the other hand, these forms can also be downloaded from the organization's website.
An absence request form can be designed through a template. It is a simple document. The format and layout can be different for different organizations. It depends upon their specific requirements. However, the general contents are the same. The organization's name is present at the top. The form begins with the employee's name. Other relevant information may also be included. For instance, the employee's email address and position in the organization may also be provided. His or her department should be mentioned as well. Next, the reason for leave is provided. It is mentioned along with the requested time duration for the leave. Any additional comments can be provided at the end. Space is left for signature by the concerned authority. This signature is important as proof of the approval of the leave request.
This is the simplest pattern for an absence request form. The template can be customized to include any additional information. Such forms may also be filled out online on the organization's website.
Preview & Details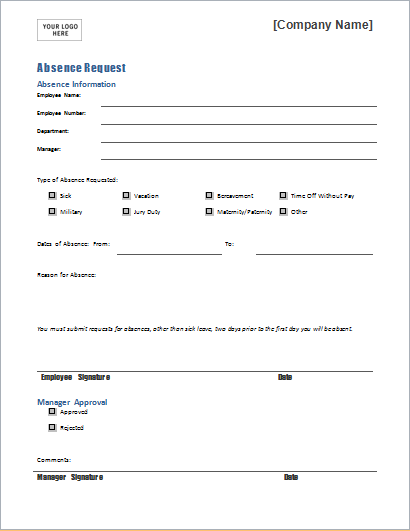 Absence Request Form Template
File Size: 44 KB mobile [Android+iOS] & iPad
Download Word (.doc) 2007 & 2007+