Outrageous behavior
This is in response to a formal complaint lodged by one of our clients for your unethical behavior. According to the complaint, you tried to contact the client through your personal number without any official business. The management is highly disappointed in your outrageous behavior.
Let us stress the seriousness of this incident. Your action may cause the company to lose one of our loyal clients. It may also downgrade our reputation and customer ratings.
You are advised to go through the company's policy regarding the conduct of employees with clients. You must strictly adhere to our code of conduct. Any future complaint may result in your suspension or termination.
Kindly contact the HR department for any queries or guidance regarding the company's policies and code of conduct. We hope to see an improvement in your behavior.
Abusive Behavior
This letter serves as a warning against your abusive behavior towards the office support staff. It has come to our attention that you treat the lower staff with contempt and often use abusive language with them. Your behavior is unacceptable since it violates the company's policies regarding our code of conduct.
The organization encourages respectful behavior towards colleagues as well as subordinates. It is essential to exhibit polite and mannerly conduct in order to maintain a harmonious workplace environment. On the other hand, disrespectful and abusive behavior disrupts the workflow and creates an atmosphere of hostility within the organization. As a result, employees are unable to work as a team for the success of the company.
You are advised to show improvement in your behavior and follow the company's code of conduct. Treat everyone with respect and, by all means, refrain from abusive behavior. If you fail to behave better in the future, we will be compelled to take strict disciplinary action.
We hope you take this warning seriously and follow our code of conduct.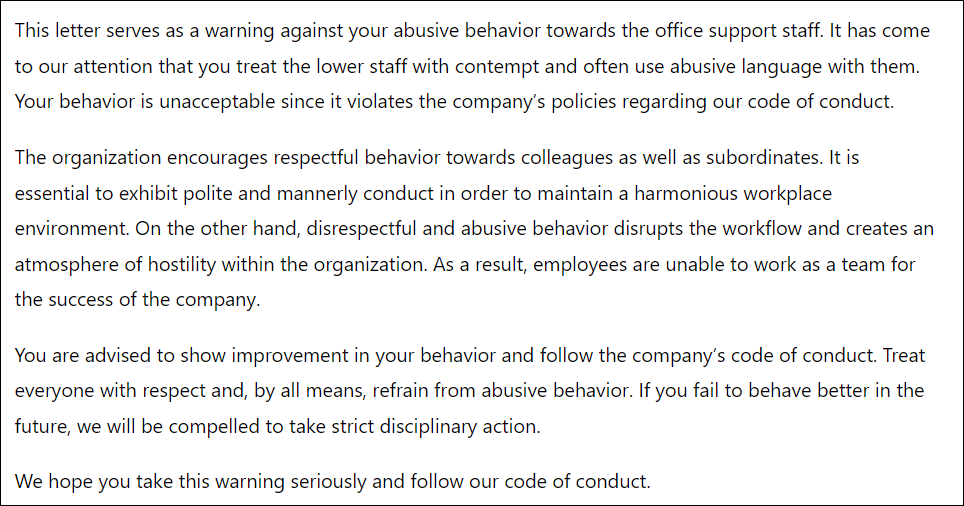 Disruptive Behavior
We are writing to address an important issue regarding your behavior at work. Your teammates have complained about your excessive use of the Internet during project tasks and meetings. This disrupts the flow of work as it causes you to lose your focus during team tasks and distracts your colleagues.
Employees are strictly prohibited from engaging in distracting activities during work hours. Additionally, the company discourages employees from creating a disruptive environment for colleagues. Therefore, you must rectify your behavior immediately.
You are advised to take this warning seriously. Collaborate with your colleagues and add your contributions and value to their teamwork. If we receive another complaint about your disruptive behavior, there will be strict disciplinary action against you.
We hope to see immediate improvement.