A credit memo is also referred to as a credit note. It is generated by a seller for a buyer. It is issued for the purpose of repayment. For instance, if a purchased item turns out to be defective, the repayment can be made to the buyer in the form of a credit memo. Therefore, it is an important financial document with a high value in the commercial world. Sellers can create this document with the help of a credit memo template. The design of the note is simple. Generally, it does not extend to more than one page. However, attention must be paid to its format while creating it.
It usually begins with the company's name and order information. The order number and invoice number are included for reference. The company's address and buyer's information may also be mentioned. Moreover, any additional details, such as the name of the salesperson, can be included as well. After providing this information, a table is created. It contains information about products. There is a column for the description of the defective items. The next columns represent the cost of each item and their quantity. In the end, the total cost is mentioned. Sales tax and any other deductions are carried out before leading to a grand total.
This document is then signed by the concerned authorities in order to make it legally valid. Although this format is simple, it can take a long time to design it. Therefore, using a credit memo template would be a wise choice.
Preview & Details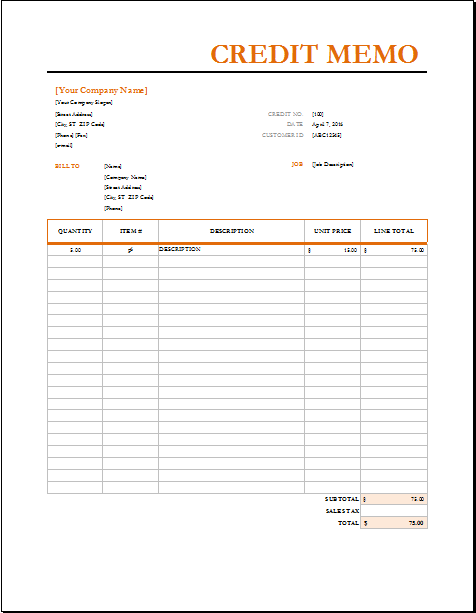 Credit Memo Template
File Size: 32 KB mobile [Android+iOS] & iPad
Download Excel (.xls) 2007 & 2007+