#1
RE. RESIGNATION DUE TO PERSONAL REASONS
Dear Sir, this letter is to inform you that I am leaving Andro Anglo CO. for personal reasons. I shall not be coming to the office after [DATE] as my resignation is prior to fifteen days as per the Company's Resignation Policy. According to the Company's Resignation Policy 2010 bullet 5(x), it is conferred that an employee is bound to furnish the company with his/her resignation notice not less than two weeks to have resignation benefits.
15-09-21 would be my last day in the office. I am leaving solely for personal reasons and nothing else plays role in my resignation. Thus, I would appreciate all the opportunities you provided me to prove my competency as an employee and putting me in a position to equip myself with the best of learning and latest knowledge. I will miss my time here in this company.
I am available for all the work to move this transition smooth and acknowledgeable. I would love to be a part of the recruitment team for this position. The company can make the replacement by promoting any one of the strongest and eligible candidates for this position. I can also make myself available for the external appointment for the fulfillment of my seat.
I adore the time I have spent in the company; thus, I would be available for any assistance later after my resignation as well. Please respond by writing to me at [X] or call me at [#]. Thank you.
Regards
Fernando Sparkle
General Administrator
AVPM Groups
Y-1190, floor 10, Gale Heights, San Francisco
CA, USA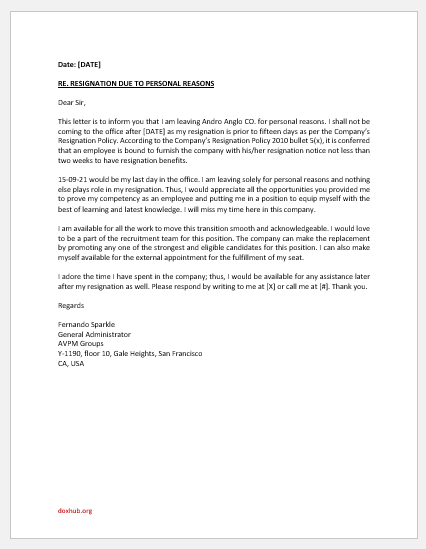 #2
RE. RESIGNING ON THE ACCOUNT OF PERSONAL REASONS
Dear Nicholas,
With reference to the above-cited subject, I intend to notify you formally that I am leaving the company on [DATE]. This letter serves as my resignation notice which is effective from [DATE].
I am resigning on the account of personal reasons. As you know we always have to resonate with our personal lives and take professional ongoings along with the former. Thus, I have to leave the job to meet the personal imperatives.
I am regretful that I am impelled to resign from the job. I am thankful to you for providing me the opportunity to work here. I shall stay in touch and would love to work on any other project in the future after being able to get spared from the current complications. I would like to get the release letter at your earliest convenience.
I am sorry to announce my resignation with immediate notice as it might bring great inconvenience for you and the business. I shall cooperate in any way in advancing the ongoing projects and assist in the external appointment or promotion of another candidate for immediate replacement.
Please write to me at [email] or call me at [#]. Thank you.
Regards
Jamaica Roosevelt
Senior Designer & Designs Manager
CDMF Groups
I-0091, floor 2, SK-Heights
Orlando, Florida
USA