Subject: Thank You Letter for Providing me [Name of the scholarship] Scholarship.
Dear [Name], I am [Name], from [residing city, state, country]. I applied for [name the scholarship] scholarship for higher studies that allow students to study in top-ranked universities at low costs. I applied for the master's degree in Criminal Law and Justice System. I am very thankful to you for considering my application and giving approval for the scholarship.
The [Name] scholarships provide [specify the percentage] of scholarship on tuition fees which shares the financial burden of the aspirants studying in foreign universities. Recently, I received an email from [mention the institute who provided the scholarship] that I have been selected for [mention the amount] of the scholarship.
I have been teaching in [mention the name of the university] for three years. Now, I want to get a master's degree from a top ranked universities in the USA. For that, I applied for the scholarship as I am unable to pay the full fee. I am a self-dependent person living independently. I am thankful to you for providing me with this opportunity and helping me in fulfilling my sheer desire to study in the US.
I close my letter by promising you that I will be diligent in my studies and residence in the USA. The provided scholarship will assist me in getting the visa without any hassle. Please note my number and email address and let me know how I can acknowledge the scholarship and attach it to my visa application.
Thank you.
Earnest Regards,
[Name]
[Signature]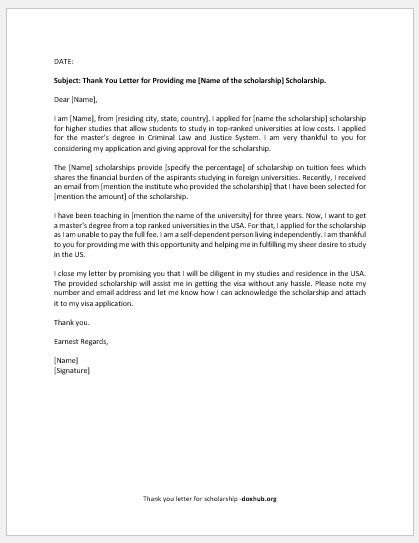 (Sample-2)
Re. Thank You Letter for Providing Scholarship
To whom it may concern,
I am [name], writing to you to thank you for granting $[Y] as a scholarship to study in the [name of the university]. I am an enthusiastic student of American Literature and have been eager much to pursue my master's degree in American Tragedy and Literature of Native America. I have worked on multiple research projects on American Literature. The research I did during my graduation will set the ground for me to study and do better and more mature research work while studying in a prestigious institute.
I assure you that the released amount for the scholarship will be used utterly for my studies and I will be diligent, honest, and dedicated. I will prove myself and of course, add something to the institute in the shape of quality research. I will remain self-disciplined, honest, and responsible in my studies and code of conduct.
The reason behind my desire to study at your university is its belief in cultural diversity and an inclusive environment. Such an environment is highly favorable to study and research work.
I am closing this letter by thanking you again for your earnest contribution to my studies. Due to your kind deed, I am one step closer to achieving my goals. My objective is to study at your university and work on research in the future. I want to be a researcher with great rapport. Thank you for your kind consideration and generosity.
Truly,
[Name]
[Application No.]
[Residence]
[Contact No.]