Death of an Employee Announcement to Staff
With great grief, you are notified of the sudden death of our valued employee Mr. John. We are shocked that a deadly heart failure became a reason of this young gentleman's death. Last Tuesday he wasn't feeling well and thus took a half day off and went home early.
–Optional Part– From past 3 years, he was a heart patient along with high blood pressure. The company understood his health conditions and was lenient whenever he took a leave for medical examination. But both his diseases were a major cause of heart failures. And this proved on Thursday night when his blood pressure shoots up and he lost his life out of heart failure.
We will never forget how loyal and professional he was with his work during all this time despite poor health. Two major contracts with Multinational companies were finalized because of his brilliant planning. It is indeed sad that we lost a gem of our company. —-
The last services of Mr. John will be held in his ancestral cemetery of his village. The time of funeral recorded by their family is 4:00 pm Saturday 15th May. Those of you who want to join the funeral services will be exempt from the work. You may contact your respective supervisors for Saturday's schedule.
Death Announcement of Family Member of an Employee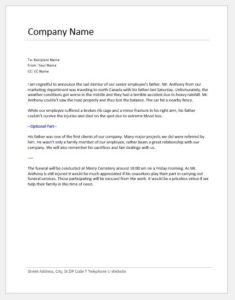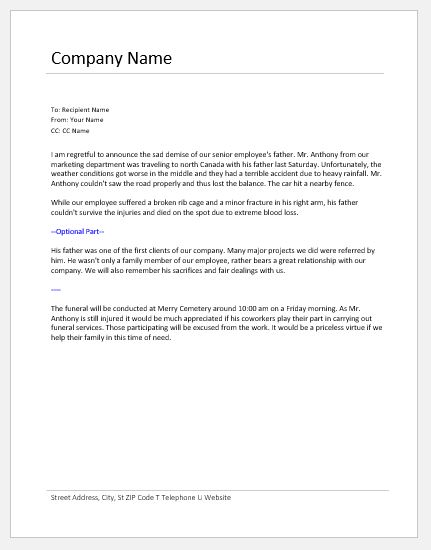 I am regretful to announce the sad demise of our senior employee's father. Mr. Anthony from our marketing department was traveling to north Canada with his father last Saturday. Unfortunately, the weather conditions got worse in the middle and they had a terrible accident due to heavy rainfall. Mr. Anthony couldn't saw the road properly and thus lost the balance. The car hit a nearby fence.
While our employee suffered a broken rib cage and a minor fracture in his right arm, his father couldn't survive the injuries and died on the spot due to extreme blood loss.
–Optional Part– His father was one of the first clients of our company. Many major projects we did were referred by him. He wasn't only a family member of our employee, rather bears a great relationship with our company. We will also remember his sacrifices and fair dealings with us. —-
The funeral will be conducted at Merry Cemetery around 10:00 am on a Friday morning. As Mr. Anthony is still injured it would be much appreciated if his coworkers play their part in carrying out funeral services. Those participating will be excused from the work. It would be a priceless virtue if we help their family in this time of need.
Death Announcement of Company's Manager/CEO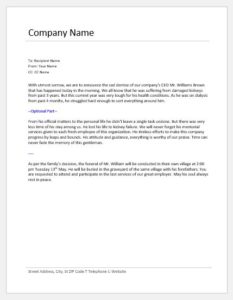 With utmost sorrow, we are to announce the sad demise of our company's CEO Mr. Williams Brown that has happened today in the morning. We all know that he was suffering from damaged kidneys from past 3 years. But this current year was very tough for his health conditions. As he was on dialysis from past 4 months, he struggled hard enough to sort everything around him.
–Optional Part– From his official matters to the personal life, he didn't leave a single task undone. But there was very less time of his stay among us. He lost his life to kidney failure. We will never forget his mentorial services given to each fresh employee of this organization. His tireless efforts to make this company progress by leaps and bounds. His attitude and guidance, everything is worthy of our praise. Time can never fade the memory of this gentleman. —-
As per the family's decision, the funeral of Mr. William will be conducted in their own village at 2:00 pm Tuesday 13th May. He will be buried in the graveyard of the same village with his forefathers. You are requested to attend and participate in the last services of our great employer. May his soul always rest in peace.