When an employee receives a promotion or a salary increment, a formal letter is written to make the promotion or raise official. Discussed here are details about how to compose this letter.
Congratulate the Employee
Since the letter carries a great piece of news for your employee, begin by congratulating him for this milestone. Express your personal compliments or wish the employee on behalf of the whole organization.
Notify about the Raise/Promotion
The main purpose of the letter is to notify the employee about receiving a raise or promotion. Such decisions are usually verbally discussed beforehand in a formal meeting. This letter serves as an official written notification. Brief details relevant to this notification should also be provided. For instance, mention when a salary increment will take effect from. Similarly, mention when the employee assumes his new job position in case of a promotion.
Appreciate the Employee's Achievement
Praise the employee for his accomplishment. His success has been rewarded to him in the form of a raise or promotion. Such rewards are offered to employees by organizations in order to boost their motivation levels and enhance employee retention. A well-motivated employee performs more efficiently. His sincerity and loyalty towards his employer is also enhanced. Therefore, give encouraging compliments in this letter. Emphasize the fact that your employee's achievement is a result of his hard work so that he continues to work diligently and strives for further success.
Express your Expectations
After praising your employee for his capabilities and skills, let him know that you expect an even better performance from him in future. A promotion is always accompanied by added work responsibilities. Similarly, a pay raise also often comes with enhanced expectations. Although the employee must already be aware of his increased workload and duties, this letter should remind him about how important it is to come up to the mark. Expressing your expectations will also show your confidence in him. An employee is not entrusted with enhanced responsibilities unless the higher management deems him capable enough to handle the work. However, refrain from putting too much pressure on him. The purpose of the letter is to encourage and motivate an employee instead of making him anxious about the new job role.
Discuss Additional Details
Discuss relevant details comprehensively. For instance, the exact amount should be mentioned in case of a pay raise. However, this is a brief letter which should not be used to go into any minor details. All additional information may be enclosed with the letter.
In the end, close the letter positively and warmly. You may wish the employee good luck with his new job role. Likewise, you may express that the company looks forward to a long and healthy work relationship with the employee. As a polite note, you may also thank the employee on behalf of the organization for his services.
Here are two sample letters – one for a pay raise and the other one for a job promotion.
Sample Letter -1
I am pleased to notify you that the management has granted a salary raise to you. As discussed in our meeting with you last week, the increment is 5%. Therefore, with effect from May, you will receive $86,700/-. While your base salary has been increased, the medical coverage, fuel reimbursement and other benefits remain the same. You will receive a copy of these details from the HR department.
This raise has been approved by the management considering your hard work and efficiency. The company acknowledges your contributions towards our overall annual sales goals. You have also been appreciated for accomplishing the ABC project. The success of this assignment has contributed greatly to the profits we gained last year through our sales. Your salary increment is, therefore, a well-deserved reward. You are expected to continue making valuable contributions by working efficiently.
Once again, congratulations to you. The company encourages you to keep up the hard work. The future holds many more rewards for you if you keep proving your mettle.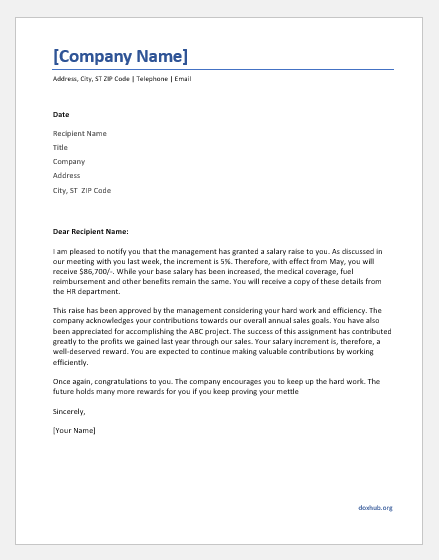 Sample Letter -2
Congratulations! You have been promoted to the post of Assistant Manager. You shall take over your new office duties with effect from 21st March. Details about your new position and the revised salary package will be emailed to you along with a copy of your renewed contract with the company.
It is a well-deserved promotion. You have earned it through your hard work and sincerity towards your job. The higher management particularly admires your exceptional multi-tasking skills and your ability to meet the toughest deadlines. The company expects you to fulfil your new responsibilities with the same efficiency and diligence.
On behalf of the company, I wish you the best of luck. I am sure your performance as the Assistant Manager will be up to the mark. You are advised to consult Mr. XYZ, the Head of Finance Department in case of any queries. 
You have been an invaluable member of our team Thank you for your services and hard work.