1-
Workplace bullying complaint letter
I am writing to lodge an official complaint against my supervisor, Mr. XYZ for repeated bullying. It is a serious workplace offense and I expect quick action to be taken against it.
I have been working in the Sales department for the last 3 years under Miss. Jones. However, since my transfer to the Logistics department last month, I have been working with Mr. XYZ as my supervisor. I am the only female worker on my team and I believe this to be the reason behind the constant bullying. It is shameful that Mr. XYZ is such a misogynist. He has despised me since the day I joined his team. He passes sexist remarks about my performance and constantly threatens with replacing me with a male counterpart.
Miss. Jones has always been satisfied with my work. In fact, it was because of my hard work and diligence that I was transferred to a more challenging post in the logistics department. I have been performing my duties sincerely and putting in a lot of effort. Mr. XYZ has no reason to criticize my work. Despite my hard work, he believes I am lazy, careless, and much less capable as compared to the male members of our department.
His bullying is making my work environment extremely toxic. I have begun to face mental health issues owing to this stress. I request the management to look into this matter and take appropriate action.
I look forward to your quick response.
2-
Letter of Complaint for Verbal Abuse at Workplace
I am John Doe, working as (position) in the Sales Department at (Company Name). I am writing on behalf of my entire team to make a formal complaint against our Senior Manager, Mr. XYZ for his constant verbal abuse. The morale of our team members has dropped down, affecting our overall performance because of his insulting behavior towards all of us. We request the management to give due consideration to our complaint and take immediate action against the issue.
Mr. XYZ is short-tempered as well as arrogant. He has no regard for the feelings of his subordinates and constantly resorts to insulting remarks and verbal abuse even on the most minor issues. I must say, he lacks the ability to handle problems tactfully without demeaning others. Every member of our department resents him due to his disrespectful behavior.
As a result, the department is losing sincerity and dedication to work. Most of our team members have confided that they are looking for jobs elsewhere and would resign the day they get an appointment letter. The company might lose many capable employees unless appropriate action is taken soon.
I request you to take our complaint into consideration. My department expects the management to address our issue as soon as possible.
3-
Physical assault at workplace complaint letter
I am writing to report an unfortunate incident of an extremely serious nature that occurred this morning in our office during working hours. Consider this as an official complaint made on behalf of the Janitor, Mr. XYZ.
He was physically assaulted today by Mr. ABC with three eye-witnesses – including myself – present on the scene. It is hoped that you would take this complaint letter into consideration with an immediate disciplinary action against Mr. ABC.
The disgraceful incident occurred today at around 10 am on the 3rd floor. I, along with two of my coworkers witnessed verbal bashing being carried out by Mr. ABC on the poor janitor. When the former lost complete control of his temper, he resorted to physical assault.
We rushed to stop Mr. ABC and asked the janitor to leave immediately. Mr. XYZ was completely shaken and felt extremely degraded. He later requested me to write this letter on his behalf in order to lodge an official complaint.
Our prestigious company has a zero-tolerance policy against harassment of any kind. Physically abusing a colleague or subordinate is a highly deplorable act that should not be overlooked by higher management. Regardless of an employee's position, our policy treats everyone equally for any kind of mistreatment. Therefore, the company should not ignore this complaint lodged by our janitor and prompt action should be taken against Mr. ABC.
I shall be available for any investigation the management wishes to carry out. I request you to look into the matter urgently.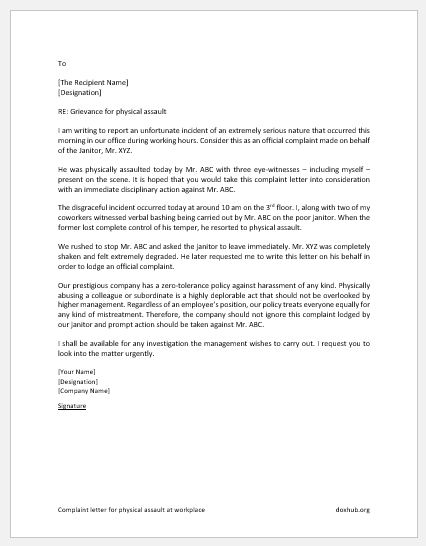 4-
Grievance letter for the hostile work environment
I am writing to express my grievance about the hostile work environment in the IT department. It is affecting my mental health and shifting my focus away from my job. I am afraid I will not be able to continue working for the company unless appropriate action is taken by the office manager.
My team leader, Miss A resorts to unnecessary intimidation and constantly threatens to fire me. I have been working for this company for the past 2 years with a satisfactory performance report. However, Miss A always criticizes my work and treats me as if I have no knowledge about how to perform my job. This is extremely insulting for a professional IT technician who has hands-on experience of 6 years in the field.
Being a dedicated employee of the company, I deserve much better treatment. I need a pleasant and professional environment to work more effectively.
I request you to look into my case and take the necessary measures to resolve my issue. I look forward to your prompt response.
5-
Response letter to a discrimination complaint
We are writing in response to your grievance about the discriminatory behavior of your supervisor, Mr. XYZ. Our HR department is in the process of investigating the matter further. Mr. XYZ will be issued a warning soon.
The company strongly discourages discriminatory behavior. Any of our employees who express prejudice against a certain gender, ethnicity, or physical disability will have to face strict disciplinary action. Following this policy, Mr. XYZ will also be held accountable after our investigation is complete.
In the meantime, rest assured that you will not face any hostility from your supervisor. Please continue to focus on working up to your full potential with a dedication to the company. In case of any more issues, make a complaint to the management immediately.