1-
I am writing this circular after observing irregularities within the office premises for the last three months. You have all been notified through a circular about office timings which are from 9 a.m to 5 p.m. What I have observed was that the whole staff is not reporting to your workplace on time and in this way, you are exhibiting misconduct which is not a tolerable practice. This is also a violation of the code of conduct that has been made by the company for its employees.
Keeping in view harsh weather conditions, all the employees will be given 10 minutes of relaxation from the office timing. Employees must note that they will be served with two initial warning letters if they violate the rule. However, in the case of a third violation, half-day pay will be deducted from the monthly salary of such an employee and a final warning letter will also be issued with this punishment. These warning letters are supposed to be attached to the employee file.
In case of emergency or any personal problem, employees usually get late from office. In such a case, the immediate boss must be informed, and it must be noted in this regard that only valid and genuine reasons will be entertained if reported well before time.
All the employees are hereby directed to follow the company rules and regulations and at the same time, they are also advised to be punctual and adhere to the office timings. If any of them is found breaching instructions given in this circular, severe disciplinary action will be initiated against such an employee. I hope you will take this circular seriously and will bring a positive change in your behavior.
Yours sincerely,
[XYZ]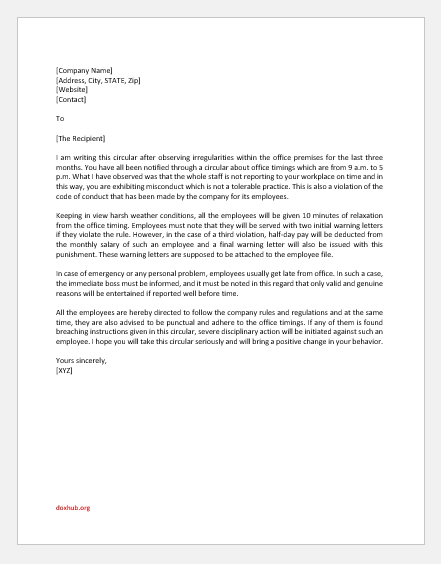 2-
Subject: Punctuality circular to employees
Dear All,
In my previous visit to the office last weekend, I was greatly shocked by seeing the condition that almost all of you were late from office by 15 to 20 minutes and even then you were taking it as normal as if nothing has happened. I am concerned about the level of punctuality in my employees and this is the main reason I am forced to write this circular for all of you. I can understand that there is an existing traffic issue in the town due to repair work on the main road and due to this, it has become quite substantial but somehow, we have to manage all this and come up with a solution so that we would arrive office on time. Therefore, you all must note that office timings for the winter season are from 9 a.m. to 5 p.m. You are all expected to be present in the office at this time.
Keeping in view the existing traffic situation maximum relaxation of 5 minutes in arrival timing can be granted. If an employee gets late by more than 5 minutes, he will be considered as late comer and will be served with a warning letter. More than three violations will lead towards counting of absence in case the violation is repeated a fourth time. One full day salary of such employee will be deducted in this case. In case you come across an emergency, you must inform your boss prior to getting late so that an alternative would be arranged. But, this kind of favor is only given in unavoidable circumstances in extreme cases.
So, you all are being advised through this circular to be punctual and vigilant. Punctuality is something that can help us achieve our goals in a better way. I hope you all will take this circular seriously and show punctuality from now onwards. I am looking forward to seeing a positive change in your attitude.
Yours sincerely,
[XYZ]