Sample -1
Dear Mr. XYZ, I am writing in response to our last telephonic conversation about the repayment of debt. As per the records and our terms of the agreement, I owe you $[X] which was to be submitted in 10 equal installments on a monthly period.
I am working with you for quite a long time by now and there is no need to assure you that I have never missed a single installment ever. Like every time, this time too, I have successfully submitted the first three installments, but I am afraid there is a hiccup in the payment of the fourth one.
I am going through an extreme financial crisis due to the Pandemic of Covid-19. My company is already in crisis and we can hardly meet our expenses.
I request you to please consider my situation and give me some more time to repay the debt. I will be highly obliged if you can give me one more month, I assure you I will pay the 4th and 5th installments simultaneously. I am sending you the new terms of the agreement, stating the above suggestion. Kindly sign it and send it back as a confirmation and proof for the record.
I hope you will show generosity and will give me some more time. Waiting for your kind response.
Regards,
Sender's name
Signature
Organization
Contact (Optional)
Enclosure: New Terms of Agreement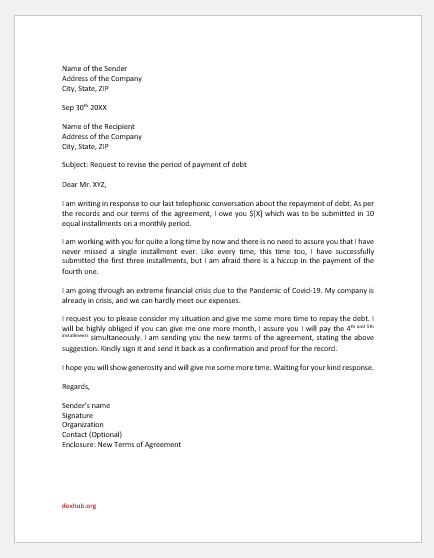 Sample -2
Name of the Sender
Address of the Company
City, State, ZIP
Sep 30th 20XX
Name of the Recipient
Address of the Company
City, State, ZIP
Subject: Request to revise the period of payment of debt
Dear Mr. XYZ
I hope you are doing great. As per our agreement of payment of a debt, the due date is approaching in a week. I never wanted to surpass the deadline so, I am writing this letter in time to inform you about my current financial status.
Unfortunately, I am going through a rough patch and my financial condition is quite not stable. I am writing to ask for some more time so, I can pay the amount of the debt as per our agreement. As per the record, I owe you $[X] and I am to repay it on 5th October 20XX but due to the unfortunate monetary crisis, I will not be able to pay you this much of an amount. However, I can pay you in two equal halves.
I have deposited the amount of [X] dollars in your account already and enclosing the receipt for your record. Kindly accept my partial payment and give me another month to pay the rest. I assure you I will pay the remaining amount by 5th November 20XX.
I will be obliged if you will consider my request. Please do write in response to this letter as an acknowledgment of the receipt and agreement for the revised deadline. Looking forward to your kind response.
Regards,
Sender's name
Signature
Organization
Contact (Optional)
Enclosure: Receipt of the Partial Payment