1-
Re. A letter of Motivation for Home Loan
Dear Kim, I am Hazle Paster from the city of San Diego, CA. This letter is regarding my application for a home loan and the recent response from you through an inquiry letter. On 21-09-20XX, I met you in person in the Bank of United States RA (BUSRA), branch 39-M. In our meeting, I shared all the details regarding the home loan. I have enclosed all the related documents that can be of crucial importance for the home loan.
Currently, I am working as a Head Media Consultant in the ORM Media Agency and Advertisements. I am working there on different designations since 2015. In these six years, I have always been one of the most punctual, responsible, and honest employees. For proof of my employment, I have enclosed the working profile copy of mine taken from the official website of the company. For more inspection, you can call at +1-[X] my immediate supervisor who is Head of the Department of Consultancy and Clientage. You can also write to the company at [EMAIL] to confirm my credibility and employment.
For the record of my current residence, I have added my information regarding the apartment that I had rented. I have enclosed the receipts of regular rent payments for the past six months. Moreover, I have added the contact details of my landlord who can be contacted for any information regarding my credibility.
I have also checked out my credit report, which also has been enclosed. The credit score, fortunately, comes out to be very well. Because of all this, I am requesting a loan of $100,000 for the house purchase I have been thinking to purchase for a long. I have added my salary details along with the possible allotments of the payment that I can do for the repayment of the loan every month.
I shall be thankful to you if you be kind enough and approve my loan. I want to get this loan approved by you as your bank is one of the most credible bodies in the market with options of huge ease and flexibility. I would furnish any further detail or document as and when required. I am available if I need to appear in the bank personally. You can respond to me by writing at [X] or call me at +1-[X]. Thank you.
Regards
Hazle Paster
Head Media Consultant (HMC)
ORM Media Agency and Advertisement (OREMAA)
120-G, Floor 9, MTY Heights, Regal Road
San Diego, CA
USA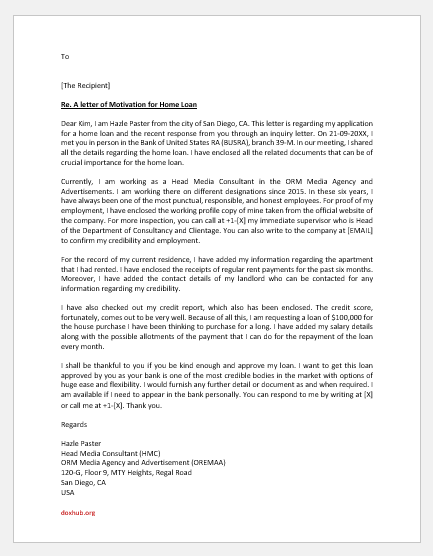 2-
Re. Motivation Letter for Home Loan from the PSY Bank
Dear Meldrum,
This letter seeks your approval for the applied home loan. I applied for the home loan on 12-09-20XX. I have been told by the bank authorities to write to you for approval and get the confirmation.
I have attached all the required documents with the letter and have attested them from the ministry of housing and residence for your convenience and smoother and quicker proceedings.
I am living in a rented apartment in OT Housing Tower, Orlando. I have been longing for owning a house for a long and it can only be possible if I get a housing loan of $130,000. I have added my work details in the enclosure of the letter where you can find my salary details as well. My salary is abundant enough to pay back the loan in flexible installments plan. My credit report shows my credit points that express my sense of responsibility and regularity in repaying my debts and credits.
Moreover, all the documentation is genuine and immune from any forgery. I certify that all the given details are true and error-free. Thus, I request you to please approve my home loan as soon as possible.
I am available for any meeting (virtually or physically both) required for approval. You can contact me by dialing +1-[X] or write to me at [EMAIL]. I am thankful to your bank for providing me this opportunity and letting me a chance to write and propagate the process.
Regards
Phone Rick
445-L 7-RSV Road, Orlando
Florida, USA