A request letter to HR asking for payslip is written by employees to their manager in which an employee requests to issue the payslip for the said months. There are numerous reasons for it to ask for a payslip to your employer and the employer then issues you payslip. It does not matter for which purpose you are writing for a payslip, all you have to do is to write it in letter form and then send it to your employer.
For writing such a letter, start it in a respectable and formal way. At the start of the letter mention the date of your writing, it is necessary to mark the date as it serves as written proof that had written the letter on this date and it saves a lot of time of the employer.
Mention your post on which you are giving your services currently and request him to give you a payslip of the asked month via email. State him the reason that it is a matter of great importance for you to get the payslip.
Inform your employer about the overtime salary and bonuses that you have received working in the company. State the purpose of making a request, although it's not mandatory to state your purpose, it would be in your favor as the employer can support you after knowing your purpose for asking payslip. Also, mention the date on which you want your payslip.
Following is a sample letter for asking payslip to HR through email and it would be of great help to you.
Sample-1
Re. Request to Send Payslip via Email
Dear Sir,
I hope this letter finds you in good health. I am Ronald Darcy and have been working in your organization for the past five years. I remained resilient and enthusiastic in these years and worked efficiently. My post here is of assistant manager and I joined here on Oct 2017.
My purpose in writing this letter is to ask you to send my payslip for the month of June and July 20XX via email. I need a loan from ABC Bank on an urgent basis and for this purpose, they want my pay slip's print. I assure you that this will not affect the company at all I have affixed all the necessary details and documents along with this letter. It will help you to go through the proceedings. In case if you demand more information about all this, I will provide you each and every chunk of it.
you can contact me on my email. I would be highly obliged to you if you do this favor to me.
Sincerely,
Signature 
Edmund Noah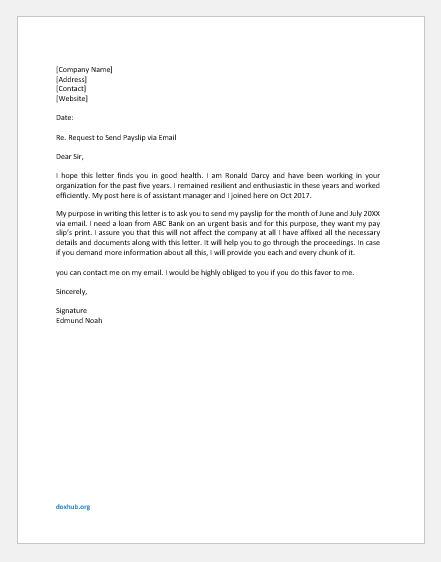 Sample- 2
Re. Request to Send Payslip
Dear Mr. Ronald,
It is humbly requested that I have been working at your Kesloa Company of Steel and Copper for the last six years. I was on the post of deputy clerk here. My joining date was September 2013 and worked till November 2019. I have affixed my job experience and other necessary details along with this letter. The time I spent here was of great zeal and I learned a lot of new things under your kind supervision.
I am writing this letter to you to ask for a payslip for the last three months of 2019 through email. I need this payslip because I, along with my family shifting to New York and for working there in XYZ Company I want the payslip as proof. Therefore, I make a request to you to issue me a payslip as soon as possible and send me via email. I would have contended to you. For more information, I can be contacted by email at [X].
Sincerely,
Signature
Rex Amaz