Retirement farewell letter from management
We want to congratulate you on your well-earned resignation from our organization. You have given your best 30 years to [Company Name] and we will never forget your services. Mr. John, you were one of our oldest and wisest employees. The company had your talented and skillful decisions when we were facing crucial times. We will always remember how you handled every tough situation in the most appropriate way possible.
We all know that our finance department would never be the same without you. As the company is sad to bid farewell to such a valued employee, we are also happy that now you have the ample chance to spend quality time with your family.
As a small payback to your exceptional services, the company has arranged a small farewell party on Friday eve 12th May. You are requested to attend this joyful event with your family. May you have a wonderful life ahead.
Retirement farewell letter from co-workers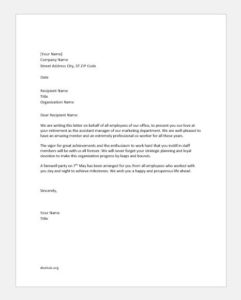 We are writing this letter on behalf of all employees of our office, to present you our love at your retirement as the assistant manager of our marketing department. We are well-pleased to have an amazing mentor and an extremely professional co-worker for all these years.
The vigor for great achievements and the enthusiasm to work hard that you instill in staff members will be with us all forever. We will never forget your strategic planning and loyal devotion to make this organization progress by leaps and bounds.
A farewell party on 7th May has been arranged for you from all employees who worked with you day and night to achieve milestones. We wish you a happy and prosperous life ahead.
Retirement farewell letter from an employee to manager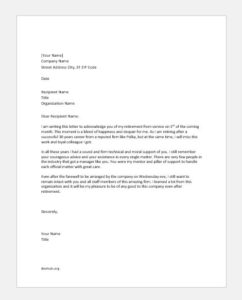 I am writing this letter to acknowledge you of my retirement from service on 5th of the coming month. This moment is a blend of happiness and despair for me. As I am retiring after a successful 30 years career from a reputed firm like Polka, but at the same time, I will miss this work and loyal colleague I got.
In all these years I had a sound and firm technical and moral support of you. I still remember your courageous advice and your assistance in every single matter. There are very few people in the industry that got a manager like you. You were my mentor and pillar of support to handle each official matter with great care.
Even after the farewell to be arranged by the company on Wednesday eve, I still want to remain intact with you and all staff members of this amazing firm. I learned a lot from this organization and it will be my pleasure to be of any good to this company even after retirement.
Retirement farewell letter from boss to manager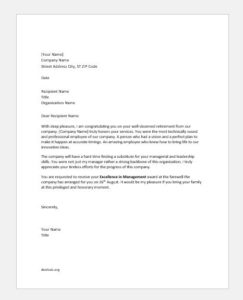 With deep pleasure, I am congratulating you on your well-deserved retirement from our company. [Company Name] truly honors your services. You were the most technically sound and professional employee of our company. A person who had a vision and a perfect plan to make it happen at accurate timings. An amazing employee who knew how to bring life to our innovative ideas.
The company will have a hard time finding a substitute for your managerial and leadership skills. You were not just my manager rather a strong backbone of this organization. I truly appreciate your tireless efforts for the progress of this company.
You are requested to receive your Excellence in Management award at the farewell the company has arranged for you on 26th August. It would be my pleasure if you bring your family at this privileged and honorary moment.