Letter -1
It is intimated to you with regret that the company had made a mistake in your last payment. Your invoice number was [X]. We are grateful to you for addressing this issue in the Finance department as we will not have known without it.
The department inspected your complaint thoroughly as you informed us, we did not pay you for the overtime you did in the last month. The concerned officer somehow missed your due right, and you had to go through this inconvenience.
I have assigned your case to Mr. ABC from the finance department to look over and correct the mistake as early as possible. You may be subjected to a necessary yet trivial inspection or interrogation as the protocol by him. I expect you to cooperate with him fully so he could solve your problem. I would also like to pay my gratitude to you for reporting the matter directly to me. I appreciate your professionalism.
Please accept our sincere apologies for putting you through such an uncomfortable confrontation. We genuinely regret this inconvenience to one of our most diligent employees. Our team will make sure it does not happen again to you or any of our other employees.
Sincerely,
Mark Adam,
Director HR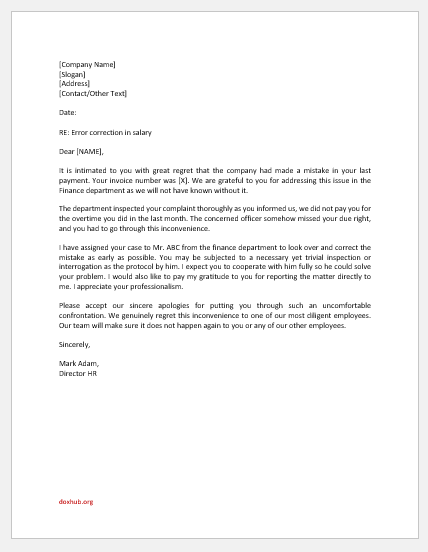 Letter -2
On behalf of the company, I would like to offer an apology through this letter for the inconvenience you were subject to. We reckon there has been a great misunderstanding from our end regarding your previous payroll as you were not paid the due amount you deserved. I have personally inspected the whole matter as I take my employees' rights seriously and make genuine efforts towards making the company's environment as safe and friendly as it could get.
On account of a misapprehension, the finance department's relevant officer confused you with another employee who had been taking unpaid leaves quite frequently. So, he deducted the amount from your invoice instead of doing it from the right person. Owing to this, your salary was decreased by a significant amount.
Nevertheless, we are glad you lured our attention to this grave issue because it would not have been solved otherwise. We also like to pay our gratitude for striking to the protocol by writing to us about this in the most professional manner.
We assure you; we will scrutinize the related individuals as per the company policies and make sure it does not happen again. Such unfortunate incidents damage the reputation of the company within and in the industry, we deal in. It also hurts the working relationship between the employees and the company as they start questioning the credibility of the ones they trust.
While this has was a challenging affair for you, we appreciate you approaching us to discuss the matter at hand. Your complaint will be resolved within 3-5 working days.
Should you have any questions, please feel free to come to my office.
Sincerely,
XYZ,
HoD