Letter -1
Our store, G Mark, has earned the name of being the best store in the town due to our teams' hard work for decades. G Mark's sales charts have been only growing ever since its start. Customers always spoke highly of our staff, and customer care services and our surveys' results are evidence for it.
Nevertheless, I have been noticing a downfall in the store's sales performance for the past few months. After a thorough inspection, I have concluded that my staff is not performing as it used to be. Therefore, I am writing this letter to address my concern and motivate you to maintain your previous conduct.
The store expects its employees to execute all their responsibilities with high motivation producing better results than before, which you were hired for. In case of any impediment, please feel free to discuss with me to analyze the situation better. The administration ensures your trust and confidence in this regard. I will personally make sure your concerns and complaints are heard without any biases and upshots.
Let us all work together to generate more revenues. It is only suitable for all of us. As a token of your improved performance, you will get bonuses and an increment in your annual income with specific terms and conditions applied.
Sincerely,
Mark Buffalo,
CEO,
G Mark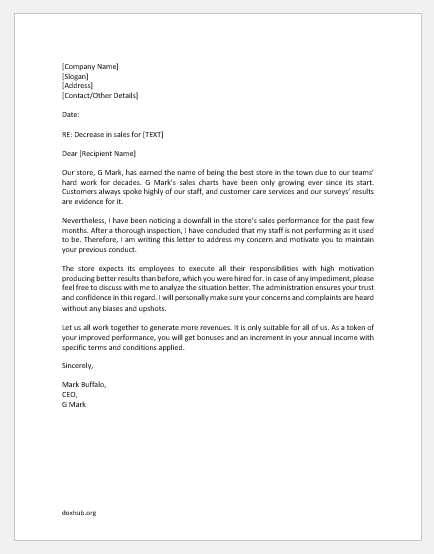 Letter -2
Dear Employee,
I am writing this letter to you to lure your attention towards a grave matter for the store, the decline in sales performance from your end. Following the protocol, I was looking at your monthly report, and it shocked me to observe a decrease in your performance. Instead of growing up, your presentation is alarming, which is a threat to the business.
As you already know, Skyrocket Solutions is only a new baby in the industry, and our survival depends on our sales. Your procrastination in executing your assignments will put the entire company's future at stake in such a crucial time. I have also spoken to your project head before confronting you only to make sure, and I am afraid he did not positively say your performance.
If you carry on with this careless demeanor, the company will face a significant loss that, perhaps, will hurt the company's reputation leading to the closure of our venture. Under no circumstances are we ready to tolerate that. It is intimated to you that if you keep working at such a slow pace, the administration will have no other option but to fire you immediately. You have proven to be a great asset to the company previously, and we expect you to behave along the same lines.
Should you have any explanations to offer or anything I could help you with, please feel free to contact me at the official time.
Sincerely,
ABC,
Director,
Skyrocket Solutions.