Scope of Work
The scope of work is a particular section of a work agreement. It describes the task to be performed at a particular job or project. This helps is laying down guidelines as well as demands. For instance, the section describes the expected milestones, the required end products and relevant reports. There may also be a timeline about the project's deliverable.
Preparing the scope of work from scratch can take a lot of time. On the other hand, a template can make the job much easier. There is a pre-made layout and format to begin with. You do not have to create any rows, columns or tables. This is because these are already available in the scope of work template. All you have to do is fill in the required content. In this way, you can use the same template for various projects. This makes the entire process of writing down the scope of work very simple.
A well-described scope of work can help achieve project goals in a better way. It does not matter what field a project or task is related to. The template can be used for a variety of fields. Another advantage is that possible errors and mistakes can be avoided since the layout has been created by professionals. Secondly, it is also easier to proofread once the writing job is complete. This is how you can create a professional and error-free scope of work by using a template. Save it in your computer and use it whenever required.
Preview & Details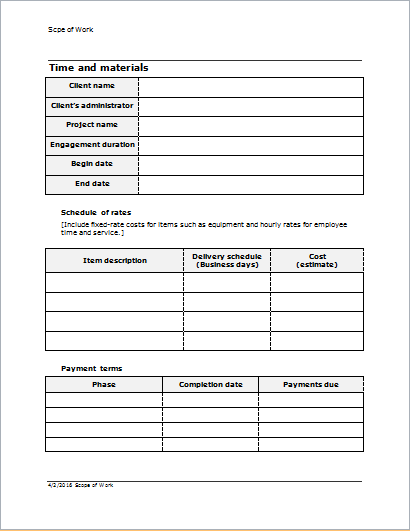 Scope of Work Template
File Size: 70 KB mobile [Android+iOS] & iPad
Download Word (.doc) 2007 & 2007+
Preview & Details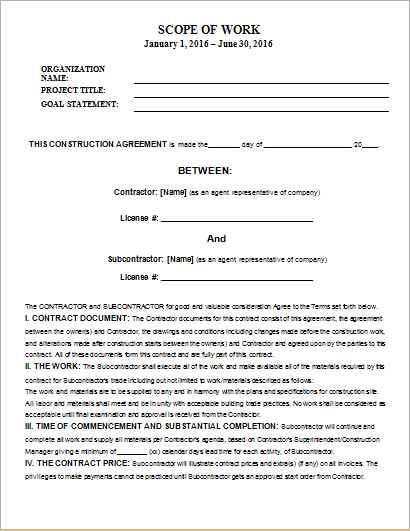 Scope of Work Template for CONSTRUCTION
File Size: 60 KB mobile [Android+iOS] & iPad
Download Word (.doc) 2007 & 2007+