1-
Re. Thank You Note
Dear Client, this letter has been penned down on behalf of ABC Group of Companies for your kind consideration for making it a joint venture. I am overtly glad on receiving your confirmation email on the initiation of this business joint venture.
The real estate business has become wide and demanding all over the globe after the economic surge that has been seen by almost every country. The entire world is fighting with post-Covid trauma and the troubles it made for people. I am glad that the [COMPANY-A] will work on all the SDH and land-related work whereas the construction shall be done by the [COMPANY-B]. This joint venture will benefit both companies in all aspects and provide innovative ideas for future business as well.
It will make it easier for us to provide diverse and multiple options to our consumers and potential clients. Therefore, I request you to arrange a virtual or in-house meeting as soon as possible so that further proceedings can be discussed about the various project ideas presented by our team. Also, we want both teams to meet each other as it will make the future work smooth and easy. For that purpose, we have arranged a professional dinner at [VENUE] on [DATE].
Please must attend the dinner along with other team members. More details about the dinner shall be sent via email.
In case of any query, please call us at [PHONE] or write an email to [EMAIL ADDRESS]. I am again very thankful to you for making this possible. Thank you.
Regards
[Name]
[Designation]
[COMPANY]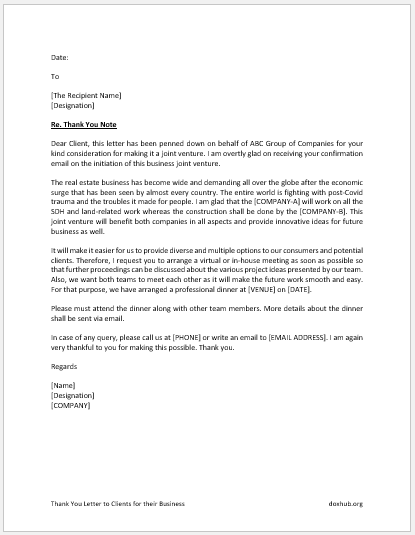 2-
Re. Thanking You for the Opportunity of the Business w.r.t Contract no. [X].
Dear [NAME],
I am [NAME], the [DESIGNATION] from the [COMPANY NAME]. I am writing this letter on behalf of the [COMPANY NAME]. The letter intends to pay thanks and huge gratitude for doing business with us. It was doubtlessly a pleasure for us to host such a leading group of microfinance businesses. It gave our team a chance to have a first-hand experience of working with a foreign organization.
Our team got an opportunity to learn a lot from your organization especially from the executive director, project manager, program manager, and other crew. It was a wonderful experience, and we are delighted that the project was accomplished on the prescribed time frame and ended before the deadline.
It was only possible because of your strong leadership skills and your Team Leader [Mr./Ms. NAME]. Apart from that, doing business with a foreign group gives you a subjective lens giving another perspective.
Your innovative ideas and future ambitions are impressive, and we hope that this will make the vision of many businesses clear and give a pathway to other microfinance groups. We are looking forward to working on another project together and having a chance to do business together. There are a lot of sites in the [CITY, COUNTRY] where a lot of funding is required, and many sectorial attentions are necessary.
Please contact us at [PHONE] or [EMAIL] if you have any future projects of the same nature in future. We will be very happy to assist you through it. I thank you again for this business opportunity. Thank you.
Regards
[Company]
[DATE]