An appointment, meeting or interview held in the corporate sector often involves important individuals who give you their precious time. You should, therefore, express your gratitude by means of a formal thank you letter as a gesture of courtesy. In addition, this letter may also help you gain an opportunity for your business or for yourself as this document also acts as a follow up after a meeting or interview.
The following discussion explains the features and requirements of this letter.
Showing Gratitude and Appreciation
An appointment, business meeting or interview is a special opportunity provided to you. Therefore, show your gratitude to the person or organization that has given you a chance to discuss your agenda. It is courteous to state that you want to thank the concerned individual for his time. It shows professional ethics. In addition, also show your appreciation for any feedback, suggestions or advice provided to you during your meeting.
Include Information for Follow up
Whether it is a meeting or an interview, you need to follow up in order to ensure that your agenda is under consideration by the concerned person or organization. For instance, in case of a job interview, you can remind your interviewer about your skills and capabilities to enhance your chances of being considered for the required post. You may also add some relevant and useful information which did not come up in the interview. On the other hand, such information can also help you promote your objectives further after a business meeting.
Provide Reconfirmation of your Interest
Another purpose served by this letter is to reconfirm your interest for which the meeting or interview was held in the first place. Emphasize your enthusiasm to provide services to a business client or to work for a certain job post.
Requesting Feedback or Response
After expressing your gratitude and further discussion regarding your meeting and interests, do request the reader to provide you with feedback. This is particularly important in case of a job interview or business meeting with a prospective client. You need a response to move forward with your business propositions.
Ending with a Proper Closing
As in the case of other types of letters, a thank you letter written after an appointment, meeting or interview also requires a proper closing. End by expressing your gratitude again. In addition, you may also state that you look forward to future business with a client or more such opportunities.
Make sure that your letter is comprehensive with clear objectives. The concerned individual you are writing to must be busy with other important tasks. Therefore, express your gratitude briefly and discuss your interest clearly.
Here are two examples to help you write a proper thank you letter after a meeting or interview.
Sample Letter -1
It has been a pleasure meeting you this Thursday on the 16th of March. Thank you for giving me the opportunity to discuss my ideas for the upcoming spring collection. I hope you liked my new designs. I felt honored to share these creative ideas with such an experienced person in the field. This meeting has been delightful.
I would also like to thank you for your advice regarding the further improvement of my designs. I particularly appreciate your suggestion regarding color schemes and the choice of fabric. I will update these designs according to the current trends and demand as per your advice. These changes will help me present my work with greater confidence at the upcoming Grand Exhibition next month.
Since you have seen and appreciated my work, I hope you will give me an opportunity whenever you need to hire a new designer for your boutique. Once again, thank you for your time and valuable advice. Your encouragement means a lot to me.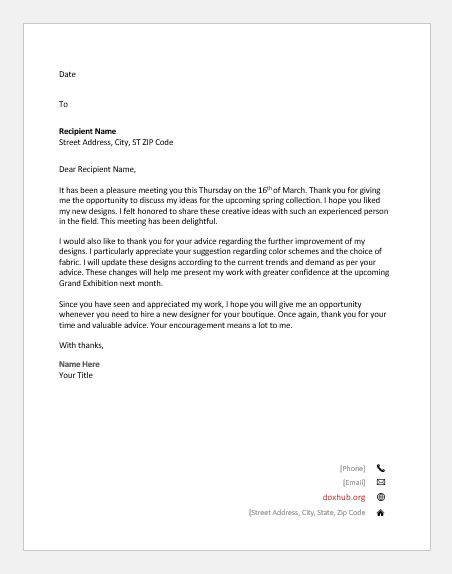 Sample Letter -2
Thank you for discussing the position of the Junior Assistant to the Executive Officer at XYX Agency with me yesterday, 15th June. I am thankful to you for your precious time. It has been a pleasant interview with you since you made me feel comfortable and relaxed throughout the session. I hope you find me a good fit for this job because of my qualifications and skills.
As discussed in the interview, the duties and responsibilities of the Junior Assistant require a candidate who is enthusiastic and passionate about this job. I can bring the energy essential for this role. In addition, my ability to work independently and creatively is the special quality you are looking for.
I am grateful to you for providing me this great opportunity by interviewing me for the job. I look forward to your feedback and response. Kindly do let me know about your opinions regarding our interview session. Your comments and suggestions will be appreciated. I hope to hear from you soon.