1-
It is a moment of pride and honor for a boss to have an amazing employee like you. The way you stood by us through difficult times is beyond describable. It is all because of your dedication and continuous support that we achieved the milestone. I wholeheartedly thank you for being a wonderful and inspiring employee.
We all make a team and work as a team. It was really a tough time for all of us, but you all proved with your enthusiasm and professionalism that nothing is unachievable. You are a true asset to the company. I am sure that in the future from our continuous efforts we will take the company towards skies heights. And it cannot be achieved without your tireless efforts and support. Thanks a bunch, to all of you for being truly amazing and hard working. I am really honored to be the employer of you. Stay blessed.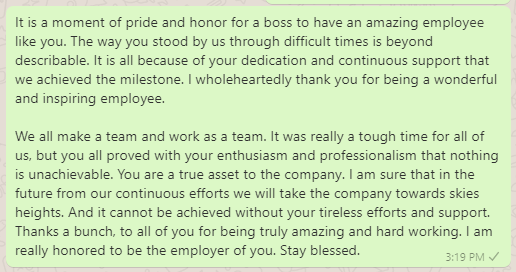 2-
Dedicated and loyal employees are the backbone of the company. They build the strong foundations of any organization. I cannot thank you enough to all of you for what you have done for the company.
We were passing through one of the toughest phases of life. When all the employees were leaving their companies after not getting paid. You stood by us and did not demand a single penny during the scenario. It was a moment of pride for me when our company was selected as one of the best companies in the city. Of course, its credit goes to all of you. The way you all worked hard to bring the company back to its original position is amazing.
You all have paved the way for other employees to work devotedly for the benefit of the company. To pay thanks to all of you, I have arranged a dinner party and you are invited. It will give me immense pleasure to see all of you there. Thank you once again.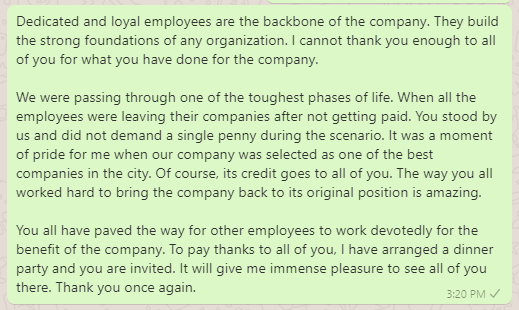 3-
Hello all, hope you all be doing well. This is an appreciation message to thank all of you for standing by with the company in difficult times. Thanks to all of you for the exuberant idea to decode the confounding problems. I just love you all for your quick response. Only very few amongst hundreds of people are of an artistic mind. I am truly blessed to be bestowed with artistic employees.
Your interpreting expertise is praiseworthy. Your collective efforts made the company enable us to get an astounding deal in an appropriate budget. This thing clearly indicates that the ownership of this success goes to you. Thank you so much for this initiative and for breaking the odds. Your efforts have set a new level of success for the company. Each employee matters and this could not have been possible with your collaborative assistance. I really owe you for all this.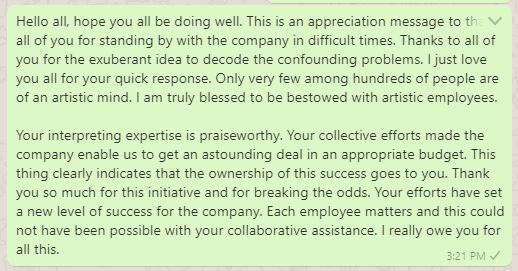 4-
First, I thank all of you for being my employees and working as a teammate. The ABC Company really values and admires your contribution and efforts that you made for the company's progress. You all proved a problem solver for the company. Your amazing analytical abilities turned the problems into possibilities. The company owes you for taking initiative for the company and proving a helping hand.
Each company needs honest and hardworking employees like you. Your day and night efforts proved fruitful and paved a way for the company to come out of the crisis. Thanks to all of you from the core of my heart.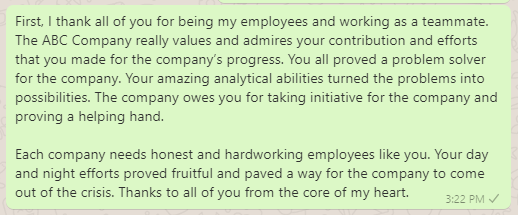 5-
Congratulations to all of you for doing an amazing job. I am proud of being your boss. With all your efforts the company achieved its milestone. Otherwise, it could not have been achieved without your support and enthusiasm. Thanks to all of you for proving a helping hand for the company. The company thanks wholeheartedly to all of you for standing by with it in tough times. Thanks a bunch, to all of you. Wish you the best of luck in the future.