1-
I am Alexie Annette and I hope you will hale and hearty. On my way back home yesterday, I met with a serious accident. I was hit by a car and I remained unconscious on the road for several minutes. I was aided by some passersby and they rushed me to a nearby hospital. This sudden hit of a car injured me badly and I got stitches on my head and my knee also got injured badly. I cannot walk properly now due to an injury on my knee and feel difficulty while walking.
Doctors have advised me to take proper medication and rest for seven days at least. Keeping in view the above scenario, I hope you can understand my situation well. Therefore, I request you to grant me leave for seven days. I will ask Jonny these days to send me daily homework. Hence my studies will not be affected. Please remember me in your prayers.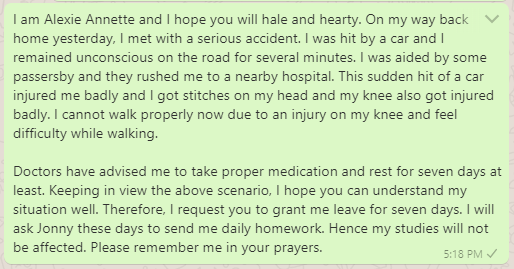 2-
Hello Miss Jane, I hope you will be doing fantastic. I am badly missing my teachers, classmates, and school nowadays. This message is to inform you of the reason for my absence from school. I got typhoid last week due to seasonal changes and it affected badly on my health. I am trying my best to take precautionary measures to avoid further illness. But instead of improving the situation is getting worsened gradually. I know that my final term examination is about to start, and it is very cardinal for me to be present in class.
I go for a regular checkup to the doctor, and he has suggested me medication and bed rest until I get to recover. I also know that I am lacking behind in my studies but at least it will take eight more days to be fully recovered. I have been keeping in contact with some of my classmates and they guide me. I try to cover the lessons taught by you.
I am also making sure to submit the assignment of Physics in time. It will be great favor on your behalf to allow me to leave for a further eight days. I will consider it your great act of kindness. Stay blessed.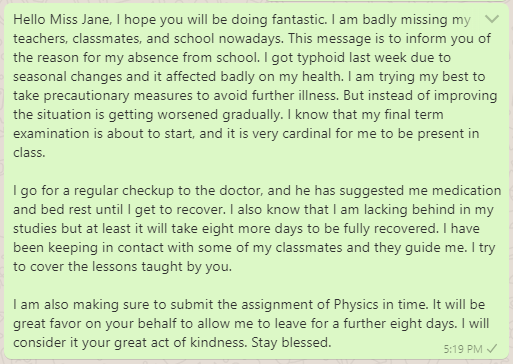 3-
You are one of my favorite teachers as you are very kind to your students. I am writing this message to let you know that I have got a viral infection. I got infected from this on Friday and hence I am not capable to come to school. As per my doctor's suggestion, the virus can cause serious damage to my body if I do not take proper care of it. I have attached my medical report along with this message too as per your convenience. Kindly grant me leave for five days.
I assure you that I will keep studying regularly and will remain in touch with my classmates. I hope that you will understand my situation well and will allow me to leave. It would be your great act of kindness. Please remember me in your prayers too as I need them now.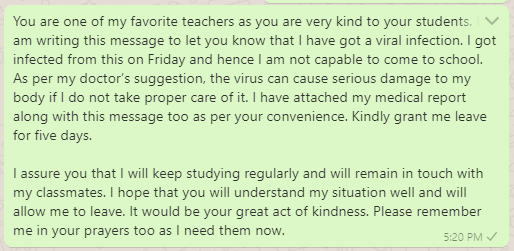 4-
With due respect, it is stated that I am a student of grade 9th in your school. I have got my eyes operated on three days ago from ABC Hospital. I have been advised to take proper care for two weeks. I have affixed my medical report along with this message. I am not in a state of coming to school and therefore request you to allow me to leave for the above-mentioned period. I will be highly obliged to you for granting me the favor. I assure you that coming back to school I will work hard than before. Thanking you in advance.