#1
Re. Warning for Unclean Rooms in [NAME] Hospital
Dear [NAME], this letter has been written to communicate my utmost dissatisfaction and aims to draw your attention to the unclean rooms in [NAME] Hospital. The cleanliness in [NAME] hospital is in a woeful state.
Its floors are not clean, and grime can be seen everywhere. The sweepers do not feel necessary to clear debris from the room where patients are staying at low rates and mostly the rooms remain in a pitiable state. The washrooms and corridors are also in awful condition. They do not have a proper supply of water and its stink has made the atmosphere intolerable. The flush system of my room does not work accurately, and waste remains to overflow all the time.
Moreover, the regular passage for patients and doctors also does not have a thorough cleaning.
The situation is getting pathetic with each passing day, and all this is creating an unwholesome situation. Not only in the rooms but outside the hospital the condition is the same. People get into the hospital for proper treatments of their ailments not to exaggerate their sickness through an unhealthy and unclean environment.
This is my humble request to you to please give kind consideration to my request and take some immediate steps to maintain cleanliness in the hospital's rooms. Hospitals are to be in the best state when it comes to cleanliness. Hospitals need to be highly tidy and cleaned as it reflects the commitment of hospital administration to the treatment of diseases.
I warn if the condition does not settle immediately, the matter shall be escalated to the higher authorities and the cleaning service contract shall be canceled. I considered your cleaning service for this hospital as one of the best services and had enormous trust in its authorities.
I hope you will take certain steps to make the situation better. Another inspection shall take place without informing, if anything is found objectionable, the cleaning services contract shall be revoked and legally challenged. Thank you.
Regards.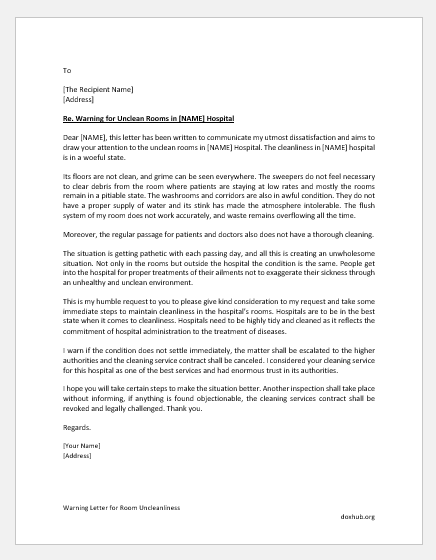 #2
Re. Warning for the Unclean Rooms
This letter serves as a warning letter; hence, it should be responded to by a show-cause letter. I am Jennifer Smith and two weeks ago my team visited your hotel for the General Inspection of CSWA to assure cleanliness and inspect if the SOPs are being followed. Your hotel is one of the most famous and highly recommended hotels in the tourist curriculum.
Most of the clients are impressed by the decent location of the hotel and the dexterous service provided to them. Most of the reviews on your website are good but lack one most important factor that also has been complained about by a lot of customers. We have received complaints regarding cleaning services of your hotel, therefore, our team made it possible to inspect the hotel on a surprise visit.
Contrary to my expectations, the rooms were found extremely messy where everything has been settled in an utmost unorderly and mussy way. The rooms seem to be uncleaned for a long time and quite dirty.
There was an unusual smell in the rooms and dampness that can cause severe headaches and other nauseated sensations. Customers also complained that they report these issues to the administration, but nothing is being done and they are compelled to stay in such rooms due to spatial unavailability.
All the hotels, especially the ones located at the tourist sites must be neat and clean as they provide services to several individuals who are mostly tourists daily and it is always busier at these places in summer. Professionally and ethically both, the administration must ensure a clean environment and a tidy ambiance for their customers.
Hence, it is warned that if your hotel is found in the same condition again, its license shall be canceled and the hostel will be sealed temporarily, which can lead to further unpleasant outcomes. Thank you.
Regards.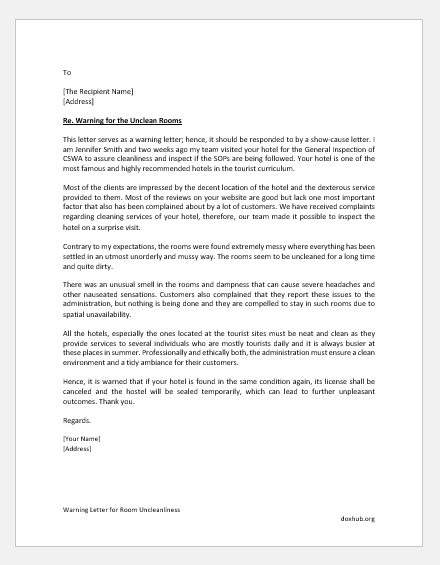 See also: