1-
This letter serves as a warning to you on the basis of your ill-mannered attitude with your colleagues. You are charged with treating them badly and ruthlessly. These complaints were coming for a long time and you were given a verbal warning by Miss Julia but you did not take it seriously. As you belong to an upper-class family and have a connection with political personalities but it does not mean treating others ruthlessly. In the office premises, you are strictly ordered to follow its policies. At the time of your joining here, it was stated in the agreement that no kind of ill-mannered attitude will be treated and all employees are equal, no matter which grade they are.
Just like you, others are also human beings with flesh and blood. Being an employee of ABC Organization, I want all my staff members to be fair in each matter without any discrimination and behave well. Your coworkers have reported complaints and charges on the basis of your rude behavior with them. They have a complaint that you use abusive language not with male coworkers but also with females. Not only this, but you also created turmoil in the office premises yesterday during break time. Mr. [X] we cannot bear such an attitude. You have to provide intensive details of the matter.
I am giving you the last warning to bring some change in your behavior and adopt office policies to survive here. You will be under strict observation in the next ten days during which each and every action of you will be reported. If you still do the same then I will hand over the matter to the CEO of the company. Moreover, I want your presence in my office tomorrow and consider this warning as the last one. What has been told you it can be hoped that you will bring a positive change in your behavior.
Yours truly,
[Elif Mark]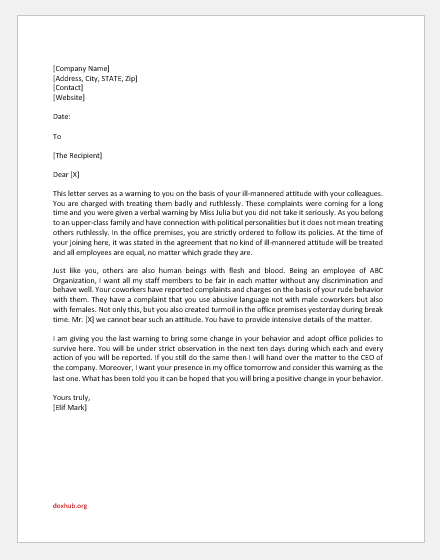 2-
I am Mark Twain, the head of [X] Company. This letter serves as a final warning on the base of oral warnings that were given to you already because of rude behavior and misconduct with colleagues. You were warned verbally by Mr. Backett on Monday 20-08-20XX your branch manager and Miss Linda the head of the finance department on 4-09-20XX regarding your abusive and harsh tone during office working hours. You were warned of not behaving professionally with your coworkers. As after oral warnings you have not come up to expectations and have not stopped making use of abusive language, it clearly indicates that you have not taken the matter and warning thoughtfully. On the basis of all this, you are given this warning letter.
Your company's managing director has asked me to send you this written warning to bring in your notice that if you do not bring change in your behavior then you will be terminated from the company. The company treats all its employees on an equal basis without any discrimination. We are not meant to terminate any of our employees but if the situation gets worst then this is the last option we are left with. Each employee of the company matters to us and we have high presumptions from them to conserve cordial and professional behavior at the workplace. You have failed to follow the set rules of the company, that's why you are given the final warning.
No doubt, you have shown exuberance performance and are an asset to the company and we do not want to terminate you but the ambiance of the company is cardinal to all the workers, therefore you should take the warning seriously. Attached to this letter is a copy that you have to sign and return it to Miss Hutcheon.
Regards,
[Martha]