Employees are required to inform their office management if they need to take a day off from their work. Sending an email has been proved as the best and swift way in this regard. Managers usually do not hesitate to grant a single day leave but the reason behind the request must be stated clearly along with the date so that it would become easier for your manager to understand your situation.
It is better to nominate an alternative who would work in your absence just to assure the management that the day is not going to be wasted.
Sometimes it requires attaching relevant documentation for leave approval. For example, a hospital prescription copy. Email must be accompanied by a thanking line for the manager at the end.  
Sample Emails
1-
Subject: One-day leave email for office
Dear Sir,
I am writing you this email to inform you that I need to take one day off from office work. This is due to the reason that I have been invited with my husband to attend the annual function which is going to be held at my child's school on [date]. It is compulsory for all the parents to attend that event. My child is also participating in different events and therefore I need to be there for his dressing and other necessities of the event.
I know it will be difficult for you to manage the workload but don't worry as I have explained my tasks to Ms. Lisa. She will take care of my work and you can contact her if needed. In case of further queries or any urgency, you can feel free to contact me on my personal number.
Keeping in view the nature of urgency, I request you to grant me leave for one day because the event organized by school management has been announced as an essential one, and therefore, it cannot be missed.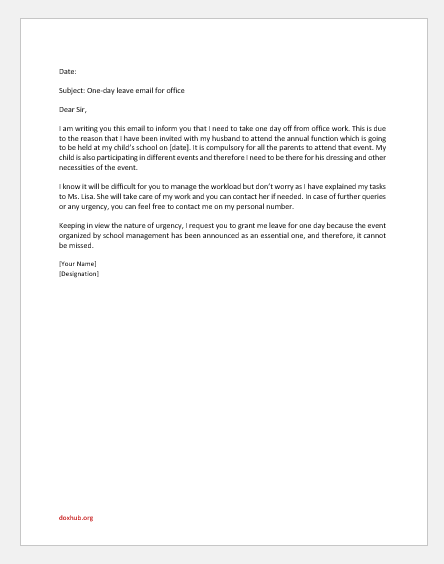 2-
Subject: One-day leave email for office
Dear Sir,
I am Anderson, working as an assistant manager in your company. This email of mine aims to inform you that I need to take one day off from official work. The reason behind this request is that my wife is pregnant and I have to take her to the doctor for a monthly check up at Holy Family Hospital. Since I am residing only with my wife in this city and there is nobody at home to take care of her, therefore, I have to take her to the hospital and I will be coming back till evening.
I am well aware of the pressure being exerted by workload nowadays since this is the end of the year and the audit team is about to come. But, I have briefed Mr. Lee about my leave day's tasks and he has promised me to take care of my work for said date. Therefore, if you have any queries regarding my work, you can ask him and still, if there is a need to ask me, you can contact me on my personal number.
I hope you have understood my problem. I am waiting for your positive response.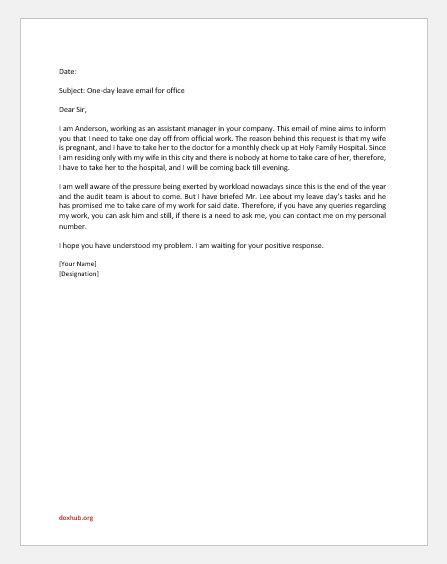 3-
Subject: One-day leave email for office
Dear Sir,
I am sending you this email to request a day leave from the office tomorrow. You know that my mother is living with my family in another state and it has been so long since I have seen her. Last night, I got a call from home that my mother's condition was serious and therefore she has been taken to the hospital. I am desperate to see her as soon as possible and cannot wait for the weekend for this purpose. Therefore, I request you to grant me leave for only one day. I will rejoin the office the day after tomorrow.
Although I have completed my work in advance for the said date still a comprehensive plan is being attached to this email so that you could manage it easily in my absence. You can still contact me if any query arises.
Waiting for your positive reply in this regard.