An invoice is defined as a receipt of goods or services purchased from a specific store or institute at a specific date. An invoice is proof of a transaction performed by you in the process of buying goods or services. This transaction involves payment of money done by you for purchasing some articles or receiving certain services.
In organizations, employees are given the benefit of submitting their invoices for particular services which they have taken from an institute. It is very important to state here that any payment made by an employee for buying certain goods either for himself or for any family member does not require an invoice to be submitted by the employee.
Invoices for availing services are only submitted in organizations for which the organization pays back you all or part of your money spent while taking a certain service depending upon the policies of the organization.
Normally employees working in any organization need to submit invoices for any medical-related facility they have availed or they may also cater for the amount of fuel used by an employee which is though limited to its quantity. Employees need to submit these invoices well in time so that they may get their money back which they had spent while availing the service.
Sample Template 1
Mr. Joe
Head of Department
HR.
ABC.
Mr. James
Manager Sales
ABC.
Dated: 25th December, 20XX
Subject: Apology for late submission of receipt
Respected Mr. Joe,
It is with due respect stated that my mother's treatment is going on in ASD hospital for the past few months. I have been receiving immense help from the office in this regard by reimbursing me the money through the invoices I submit every month. This month, my mother's health deteriorated due to which I was unable to submit the receipts well in time. I am 15 days late in submitting the invoices. I feel really sorry for being this late and hereby apologize to you for not being able to submit the receipt in time.
Please accept my apology in this regard as it is very important for me to get my invoices reimbursed so that I may continue my mother's treatment in the hospital.
Regards
Mr. James
Manager sales
ABC.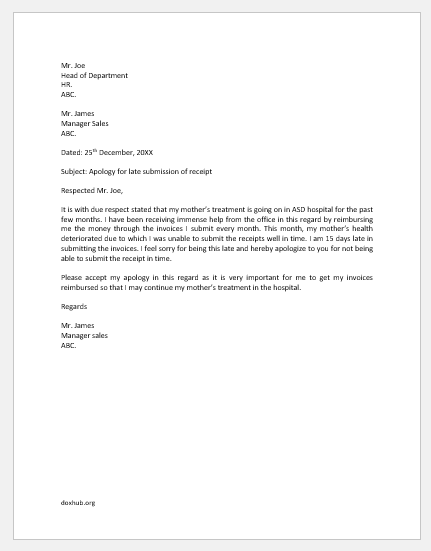 Sample Template 2
Mr. John
Department Head
HR
ABL.
Mr. Jerry
Manger Accounts
ABL.
Dear Mr. John
It is with sincere apology stated that I was unable to submit my invoices to you in time this month. I had been undergoing dental treatment for the past few months and since then I have been submitting my invoices to you as required by the company. This month due to some personal issues I was unable to submit my invoices within the due date. Please accept my invoices for my medical treatment with delay. I have attached to this letter all my invoices for this month's visit to the doctor. I hope this would not create any problem.
Regards
Mr. Jerry