1-
Re. Permission for the Use of Electron Microscope in Understanding and Study of Bacterial Infections in the Biological Sciences Class of Grade-V, Room-XIV
Dear [NAME], this letter is to request an electron microscope that I need for my students of grade-V in the school. The students are studying Microbiology and Bacteria in the class of Biological Sciences. My students need five electron microscopes, whereas the biology lab has only three of them. The rest of them have to be borrowed.
The students of grade V are not mature enough to understand the factors and impacts of microbiology and therefore, I am taking them to the biology lab for the analysis and first-hand observation of bacteria and other microorganisms.
I have requested the school authorities to provide lab equipment according to the student count, but it has been informed that providing the students can take some time. I and my students shall be very glad and grateful to you if you please allow us to use the electron microscopes available in the Department of Physics. If yes, then please ask the servicemen of the physics lab to take three EMs to the Biology Lab.
We shall need this equipment from 9 AM to 12 PM on [DATE]. I will take due care of the equipment and shall return on [DATE] in proper condition without leaving any damage. Please send me a confirmation email if you allow it. I thank you in anticipation.
Respectfully,
[Name]
[department]
[school]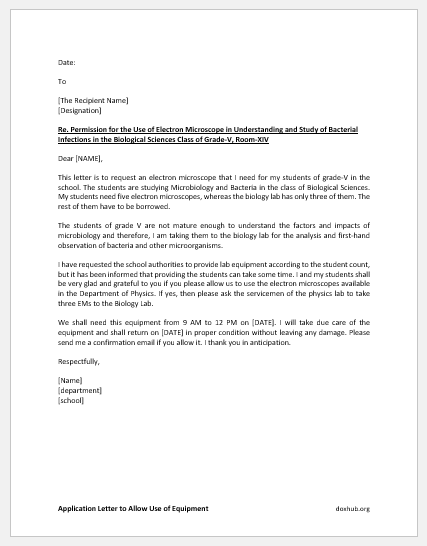 2-
Re. Use of Projector Tool for the Display of Documentary of D.H. Lawrence to the Students of World Literature
Dear [NAME],
I am a professor of world literature to the Undergraduate Section-M of Semester-I. In the pursuit of the subject, I am showing my students a few documentaries about world literature and themes of love and complexes. For the display of the documentary, I need a projector tool in my class on [DATE]. On [DATE], at 8 AM, I am showing my students a documentary on D.H. Lawrence and his masterpiece Sons and Lovers.
The available project tool has not been updated, hence does not produce a quality picture. Therefore, I am seeking your permission to get another projector tool from the storehouse of the school. If you gladly allow the use, please refer your order to the storehouse man who is guarding the tools and equipment of the storehouse.
If the projector tool is not available in the storehouse, I request you to get us a projector tool on the urgent demand from the demand list of equipment from general administration. I request you to do it as soon as possible as I have to show the documentary to my students on [DATE] at 8 AM.
I shall be highly obliged to you for this. Please ask away if you have any queries by writing to me at [EMAIL] or calling me at [PHONE]. Thank you in advance.
Regards
[Name]
[department]
[school]