1-
RE. CHANGING THE CLAIM POLICY ON SHOES PRICED BELOW $50.
Dear Customers, I am Rondez Balls, Assistant Manager of Comfy Feet Shoes Company. I am writing this letter to all on behalf of Director and General Manager, Mr. Carol Binj. Referencing the subject, the letter addresses an issue in the company's claim policy, and thus, I am writing to clear the ambiguity related to avoiding any clash or contradiction of statements by the company. We have updated our Claim Policy which was previously updated in 2014.
With the new cult of budgeting and tax impositions, several businesses have to undergo multiple changes with the new fiscal year 2021. The budget has obtruded many shoes business companies as it is neither customer-friendly nor for the holders.
We, therefore, have made certain alterations to avoid any unpleasant scenario. According to the Claim Policy of 2014, the company is liable to replace the shoes if found damaged or broken within three years of warranty. As three years mark a long time, thus, we have shrunk the period to one year only. Claiming after three years create different complications i.e, for instance, loss of receipt, loss of warranty card, or change in the dates of warranty constraints. 
Thus, shoes under the price of $50 shall not be entertained with replacement after one year, in case of damage, according to the updated policy of claim. Hence, there shall render a right of shoe repair by the company's ardent staff in case of damage encompassing within the frame of time mentioned in warranty or claim card. The shoes priced more than $50 shall be entertained with a replacement for two years of warranty. The shoes priced more than $100 shall be granted 5 years of replacement or repair claim or both according to the claim/warranty card.
The new policy i.e., Claim Policy 2021 has been implicated with the approval of IRS and Federal Board of Taxation and Consumer Rights. The policy shall be effective immediately i.e., from 28-08-21 without any other delay. All the shoes purchased before the implication of this policy shall be dealt with with the updated policy. We are sorry if this change in the company's policy brings any inconvenience to you as a consumer. 
For more contact us on our helpline no. 11892 or email us at [EMAIL].
Regards
Rodez Balls
Assistant Manager
Comfy Feet, USA
(Signature of the Director/General Manager/Relevant Authority)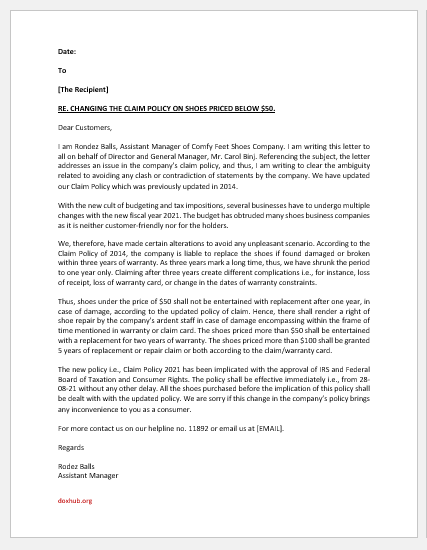 2-
RE. COMPANY'S POLICY CHANGE ANNOUNCEMENT
Dear Employees/Workers,
This letter announces a change in the company's policy on giving benefits while resigning, getting terminated, or getting a retirement in any category. The letter serves as an announcement to all the employees from grade RT-01 to RT-18. This is a general announcement and thus a copy of the letter has been submitted to the Federal and Internal Board of Employee Rights (FIBER) and Federation of Organizational Policies (FedOP).
The Board of Directors with the coordination of the management and finance department has decided to change the policy of the company on benefits on getting terminated, resignation, or retirement. The policy of the company called Career Benefits Policy was propounded and stated by the Director-General Ms. Melsy (2012-2018).
The policy has certain gaps and is hence contradictory at several levels. Moreover, the previous records of the FY of the company show a constant decline in the company's gains and profits. It has been majorly caused by Covid-19 and other economic fallouts in the previous years. 
Thus, to cater to this cult of policy paradox and economic haps, it has been decided to change the Career Benefits Policy 2016. According to the updated policy i.e. Career Benefits Policy 2021, an employee shall be subjected to no benefits after getting terminated or resigning willfully. Only an amount of 15% of his/her total salary shall be paid as a farewell bid once. Moreover, another amendment has been done with point 9 (iii) of the Retirement Section in which, priorly, an employee was subjected to all the retirement benefits after getting retirement on completing a period of 19 years of working that falls in Cat-C of the Retirement Section.
According to the new policy, an employee can get retirement after completing 23 years of working in Cat-C otherwise it shall be rendered as willful resignation. Cat-A and Cat-B shall operate on the previous methods and no change has been done with them.
We expect a good deal of cooperation and support from our worthy employees in this change/update in the policy. For any query or suggestions, write to the General Manager at [EMAIL].
Best Regards
Emily Stanwood
Assistant Manager
OPUS Corporate and CO.
908-F F-11/2 Frost Avenue, HQ Heights
San Francisco, CA
USA