I am Hedda Ibsen and working in your organization for the last five years in the post of assistant import and export. The purpose of writing this letter to you is to register a complaint against the manager of our organization who treats his employees very poorly. Being the manager of the organization, his duty is to behave well with all staff members but his behavior is biased toward some employees.
I have been selected on a fair basis, but he treats me as if I have been selected at someone's request. I perform each task with full hard work and work extra hours too if there is any need for it.
Moreover, I have graduated from the renowned university of the town, but last month's incident made my heart wrenched and I am not focusing on my work properly. Actually, last month he hired one of his relatives for the post of assistant manager and through some reliable resources, I came to know that the person is hardly qualified. While he didn't promote me and stopped my promotion by saying that I am not highly qualified.
Keeping in view the above-mentioned circumstances I request you to take strict action against this unfair dealing of the manager to his employees. I am writing to you all this to request you to come to visit the branch and have a look at all this matter. This unprofessional way of dealing has not only lowered my morale of mine, but all the staff members are feeling the same.
I hope that you will do something to stop this unfairness and I want to request you not to take my name in front of the manager that I have asked you to come to. Thanking you in anticipation.
Regards,
Hedda Ibsen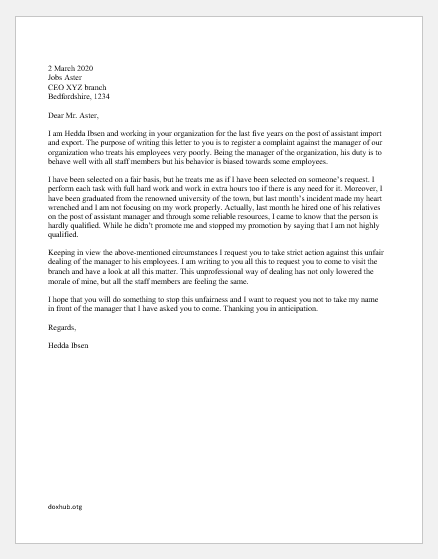 Sample -2
2 March 202x
George Hamilton
CEO SSS branch
Bedfordshire, 5555
Dear Mr. Hamilton,
I hope you are doing well. I am writing you this letter to draw your kind attention towards a rising issue in our XYZ branch because of the newly appointed manager. Not only me but all the staff members of this organization are fed up with the new manager due to his abusive language and watching female employees with lustful eyes.
From the day he has come here, a kind of fear has developed amongst everyone here because on small things he threatens to exclude us from the job. This was not the case before his appointment here. We all were satisfied with our ex-manager here.
Last week Miss Julian, the employee here, called her into his office for checking files. Upon entering he closed the doors and tried to harass her. Fortunately, two or three people were passing by at that time near his office then she called them loudly and they rescued her from him. We cannot bear this kind of happenings in the organization and don't feel safe working here now under him.
Moreover, whenever he calls anyone from the staff, he uses very rough language and behaves unprofessionally. Therefore, I request you on behalf of all the staff members that you should transfer him as soon as possible because we are not feeling secure.
I hope that you will take prompt action to handle this ongoing situation. We all would be very thankful to you if you make an arrangement for his transfer. Thanking you in anticipation.
Regards,
Mathew Arnold