1. For departed employee
Dear Meezo, ABC Company would like to inform you that Miss Ayesha Malik, our Head Consultant has left the company. Your remaining consultation sessions will now be held with our newly appointed expert, Miss Seema Zahid. We assure you that you will receive the same quality of service as before. We highly value your satisfaction as one of our esteemed clients.
There might be a few changes to your previous schedule with us. You will be duly updated in a couple of days.
Please feel free to contact us to share your concerns.
2. For a resignation
Please be informed that I am resigning from ABC Company. My last working day here will be on 30th July. I will no longer be responsible for managing your account from then onwards. However, the company will hand over the responsibility to one of my esteemed colleagues. The management will officially notify you about the adjustments soon.
Although I assure you that the agency will continue to provide you with quality services after I leave, you have a right to transfer your account to another company if you do not look forward to the changes that might take place once I have left. In case you want to avail of my services for clearance, please contact me before my resignation takes effect.
Please let me know if you have any concerns or queries.
3. For payment
We are writing to notify you that your 30 days trial period for our Belly Slimming supplement is over. You are now requested to make the full payment for the purchased product in the amount of $70/- before the 2nd of March.
We are glad that you have found the supplement effective. You may submit another order form to purchase more supplies.
We are really glad to serve you. Do recommend us to your friends and family.
Kindly contact us for any queries regarding the payment.
4. For price increase
This letter serves to notify our valued clients about an overall 5% increase in our prices for all imported jewelry items. The increment is in line with the recently increased government tax on imported goods. Our updated price list will be available shortly on our website.
Please note that there will be no changes to the prices of any local brands we sell. We would also like to bring to your attention that the new price increase for imported items has been made with marginal profit for us. We want our customers to enjoy shopping with us without feeling a burden on their pockets.
Please do contact us for any concerns or suggestions. We look forward to your orders and hope to provide the best shopping experience for you.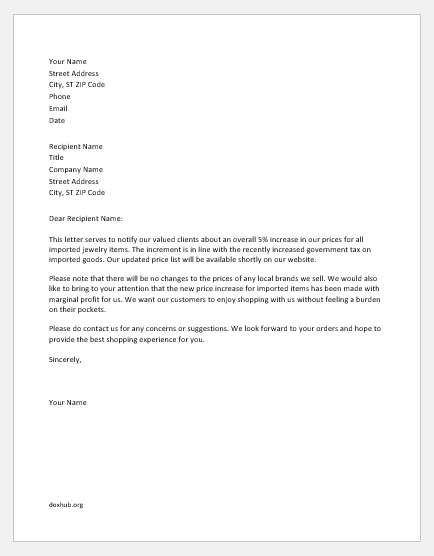 5. For meeting
Dear Customer,
We have received your special request regarding your customized order. We would like to discuss the details with you in person. Kindly visit our office for a meeting this Thursday, 21st January at 10 am.
Please give us a call in case this day does not suit you for the meeting. We will reschedule it according to your convenience.
We look forward to seeing you.
6. For maternity leave
Our interior decorator, Miss XYZ will be on maternity leave from 12th August onwards. She will be on a 60 days break from work. Her ongoing projects will be handed over to Miss Jane Doe who has been working under her and is capable of taking over her assignments.
Please be assured that there will be no delays in your project. The absence of Miss XYZ will have no effect on the quality of service delivered by our team.
A meeting will be arranged between you and Miss Jane so that you may express your concerns to her and alleviate any apprehensions. Kindly let us know what day and time will be suitable for you for this meeting.
We await your response.
7. For construction work
We would like to notify our valued clients that the store will be closed for a while due to renovation. We are adding another story in order to expand the store. The construction work will begin on 12th March and will take up to a month.
We regret the inconvenience. In the meanwhile, you may continue to shop through our website.
We will notify you as soon as the store reopens. Thank you for your patience.
8. For absence
We are writing to inform you that your personal trainer, Mr. John is on medical leave for a week. We advise you to reschedule your gym sessions for next week. Alternatively, you may opt for another trainer if you feel comfortable.
Please let us know what you would like to do during John's absence. We apologize for the inconvenience.
9. For salary increase
The Company is glad to announce a salary increase for all our workers in return for their consistent hard work. Our employees put in a lot of effort to bring a highly satisfying customer experience to you. It is a well-deserved increment for them. It is also a motivating factor for our workers to continue to offer the best quality service to you.
In view of the mentioned pay raise, there is going to be a nominal 3% increase in our general service charges. This will help the company maintain its standard and quality.
We thank you for your patronage and hope to stay up to your expectations.
10. For employee
We are pleased to introduce our newly appointed employee, XYZ as Health Consultant. She is a foreign-qualified health expert specializing in the field of fitness and weight loss. Our valued clients can avail themselves the chance to consult her before choosing the right weight loss supplement from our store.
Your first consultation session will be free of charge. Please call us to schedule your appointment.
We look forward to hearing from you.