#1
Re. Cost Cutting Letter to Grade A, B, C, & D Employees
Dear Employees, I hope this letter finds you well. This letter has been written for cost-cutting to adjust problematic funds and finances poised on the company by the evitable factors. As we all know, the economic fallout of 20XX has posed serious challenges for all of us in the corporate and industrial sectors.
The need of the hour is to be motivated and responsible. In this regard, I have contacted the finance manager to evaluate all business processes and goals to find the best possible ways to reduce expenditures by increasing profits. This will prove helpful in protecting the future of the organization.
The finance manager along with his team has come to a strenuous but inevitable conclusion after a thorough analysis to manage the assets of the organization during this challenging time. From [DATE], all exempted workers will receive a [PERCENTAGE] reduction in their monthly salary for six months and non-exempt employees will receive a [PERCENTAGE] cutback in their annual salary.
Moreover, there would be no overtime work and all the workers will continue to work according to their previous schedule.
It is tough for us to make this decision and we understand that it might have drastic impacts on you. This was the best possible option we had right now by keeping in view the current financial situation of the company. However, you have been provided with some other substitutes and subsidies and it will strive to put the least influence on our workers.
The finance manager will keep an eye on the company's finances and this decision will be re-evaluated after every four months.
I am of the view that this step will prove beneficial for the company by promising a bright future for it. We cherish the hard work of our employees as they are the backbone of the company. I hope we will continue to have your full support as we all endeavor for the continued success of the organization.
If you have any queries in mind, then please let us know or you can visit the human resources department for further. Please write to me about any critical issues related to financing and funds at [EMAIL]. Thank you.
Regards.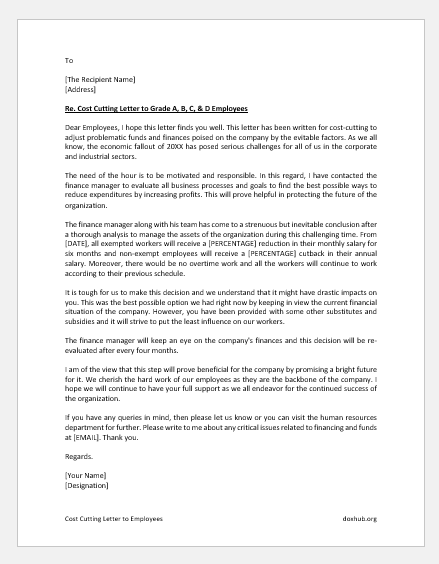 #2
Re. Letter to Inform Cost Cutting Effective from [DATE]
Dear All,
The company is experiencing several financial strains for the past few months due to work insufficiency and post-COVID financial exhaustion. We had made many efforts to work with other options but unluckily all efforts remained unsuccessful.
To corroborate the company's financial steadiness, we have decided to reduce company's expenses by reducing some profits and perks temporarily. We are informing it with deep remorse that due to downsizing the company's costs we would no longer be providing some of the employees' benefits. The notification must be observed with immediate effect.
To cut back, the company was forced to close its franchises in [CITY], branch [X] and [CITY], branch [X] diffused all the settlements to the headquarters. Cost Cutting is an indispensable solution because of the shortfall in the company's economy.
We feel contrite about doing so but it is promised that once the problems are settled in a few months, the company shall provide better employee benefits with high ends. The company always remembers your valuable benefactions.
Moreover, it is notified that this reduction is not based on any cadre, rather it is equivocally implemented without cadre discrimination. Hence, the employees working under grade 4 are exempted from this we promise better future options in terms of employees' benefits and perks after the settlements of these issues.
We are extremely sorry for causing inconvenience for you and we make you certain that we will make up for it through a satisfactory compensation. Please consider our indebtedness and gratitude for the valuable services and resilience you have always expressed.
Thank you
Best Regards.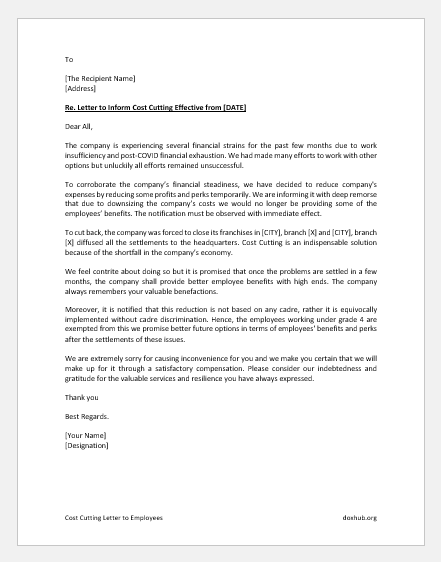 See also: