#1
This letter intends to inform you about my leave from the workplace for a few days. Last night, an unfortunate incident took place, and I need to take emergency leave for this. My father had a brain hemorrhage, and two veins in his brain burst. He is hospitalized and has been kept under intense care. The next 48 hours are very critical for his life. I am with my father in the hospital, as he needs an assistant all the time.
I am passing through a crucial phase of my life, and I request that you pray for my father's swift recovery. I cannot tell exactly when I will resume work. I assure you that once my father moves toward recovery, I will rejoin the office again. I seek forgiveness in advance for disrupting the smooth working schedule. I hope you will understand me and stand with me during this phase.
#2
I am Stephan Hulks, and I am currently providing my services as a media manager in your organization. I am writing this email to ask permission for a sudden emergency that has fallen on my family. My father is a diabetic patient, and this morning he had a heart attack. My siblings have gone abroad for studies, and I live with my parents. I was leaving for the office when my mother started crying. While I rushed to see her, I saw my father lying on the ground. We immediately took him to a nearby hospital.
Upon examination, the doctor told him that three valves in his heart were blocked. They suggested heart surgery, which will be carried out tomorrow. For this reason, I cannot attend the office for ten days as I have to take care of my father. Kindly approve my leave request.
#3
This email has been proposed to request ten days' leave because of the poor health of my father. My father had a heart attack and is currently hospitalized. I am leaving for Manchester on today's flight to be there with my family. I intend to take leave from [mention date] to [mention date]. I will let you know often about my father's recent update.
I have contacted Mr. Smith and informed him about all this. He has agreed to take over my responsibilities during my absence.
For an urgent query, you can contact me through email, and I will make sure to answer your queries. I will try to catch up as soon as I see any positive signs in my father's health. I assure you that I will concentrate properly on my tasks after I get back to work. I am waiting to get a positive response from you.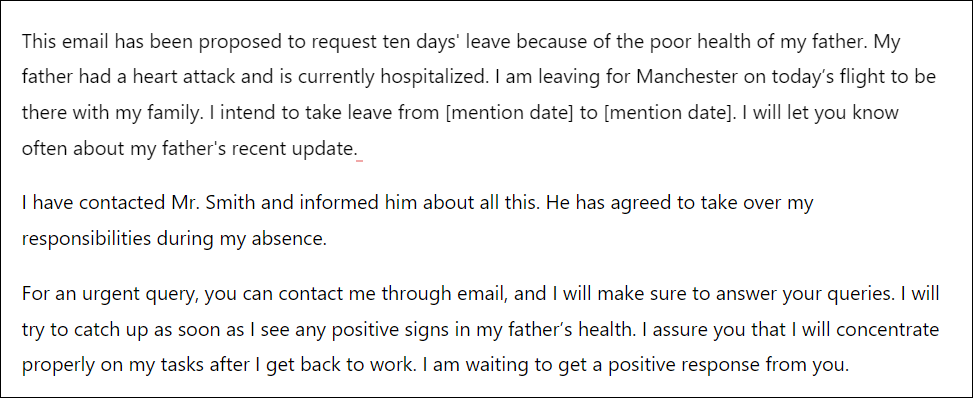 #4
With a heavy heart, I am letting you know that my father is seriously ill. He lost his right leg in a serious road accident. He is admitted to the hospital, and his surgery will be done on [mention date]. I have to get some of his tests done by [mention date]. It is impossible for me to manage all this by attending the office. I need five days' leave for this purpose. Kindly exempt me from office duties for five days and approve my leave request. I will be thankful to you for granting me a favor.
#5
With due respect, this is to state that I need emergency leave due to the poor health of my father. He got seriously ill and was admitted to the hospital. Due to high blood pressure, he had a nervous breakdown and was taken in as an emergency. He needs my support during this time, and I request that you allow me two weeks' leave. I have confirmed my seat and will leave for Alaska at 2 p.m. I hope you will cooperate with me by considering my circumstances.
#6
This letter serves as my formal request for sudden leave due to an unforeseen incident that happened yesterday. My father was in a serious accident and received multiple injuries. His condition is not good, and he is admitted to the hospital. The doctor has told me that his surgery is expected tomorrow, and I need immediate leave in this regard. My presence is a must there, and I hope you will support me. Please ask all the staff members to say a word or pray for my father.