1-
Re. Counseling for Excessive Absenteeism Notified by the Department

Dear Angel,
This letter has been served as a counseling note to you on your irregularity at work. I am Benedict Anderson; the General Manager of the company and I am composing to show my concerns about your chronic absence in the office. It has been notified by your department that you have not been regular at work and not punctual. According to the recent attendance policy of the company, this complaint can charge you with grave sanctions in the form of a fine, deduction in salary, or termination followed by a warning letter. I have also been informed about the causes of your absence and they are not serious in their matter of commitment. Absenteeism and uninformed leaves can trouble you at the workplace not only with sanctions but also by spoiling your image in the office.
You have been a competent and hardworking employee of the company and we consider you one of the forerunners of the company's Information Technology department. You have been a regular employee since you joined the office but now it is reciprocated by your excessive absence. It has been confirmed by your immediate supervisor that you have remained absent many days in the last month without even informing your department. This attitude is one of the most condemnable behaviors as without regularity nothing can be achieved.
Punctuality and regularity are key factors for success and to get the desired results out of your business. We consider our employees our captains who run the company with their endless efforts and untiring industrious working. When I was told about your absenteeism, I asked them for your attendance report which has verily disappointed me. In this proceeding month, you have been absent for seven days in the first half of the month. It has been verified that the reasons for your absence remained familial or related to your studies.
Angel, you are working with an established firm that has expanded its business to three other cities and has been internationally recognized at well-reputed forums. This company cannot compromise over professionality and punctuality because these two factors are the main shooters for success and effective functionality of the operations.
With the above description, I would like you to understand the importance of punctuality in the workplace as it is dishonesty with work and the employer and unprofessional unequivocally. Neglecting your work for other irregular appointments and commitments can cost you a fading bright career and place in the office.
I expect you to improve your regularity in the office rapidly and report to me your next week's attendance on 20-12-20XX. Moreover, you are advised to write an apology letter or email to your supervisor asking to pardon you for your excessive absence in the office.
For any further discussion on the matter or query, you can visit my office from 12 PM to 3 PM or write to me at [email]. Thank you.
Regards
Benedict Anderson,
The General Manager
Suarte Miller Constructions
23-A ST Square, California, USA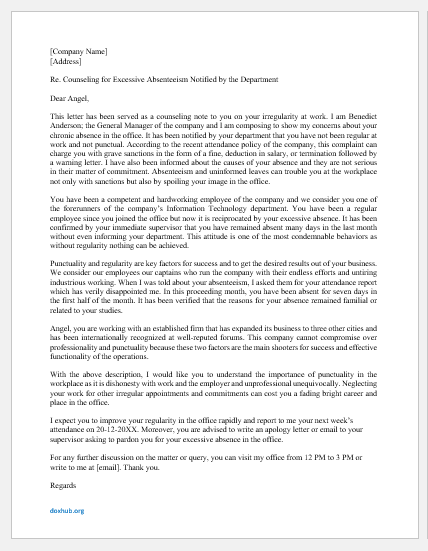 2-
Re: Counseling for Excessive Absence Reported on 23-11-20 by the Monthly Employee Attendance Report
Dear Meghan,
Absence from work is an inevitable thing which cannot be neglected as we all share our lives with so many other people and we are verily committed to multiple chores regarding the home, family, elders, education, or sometimes another part-time job. Our company completely regards and admits about the issues faced by our employees. In a similar wake, our attendance policy is to maintain 85%. A specific number is allowed for the leaves and otherwise, one must show up the show cause of certification or work from home.
As per my knowledge, no show-cause notice has been responded to from you and no work from home has been requested. In the last month, you remained absent for one week successively without informing the administration and did not respond to any email from the company. This has been confirmed by the manager and other colleagues that you showed up less than half of this month.
Moreover, this inferred you to neglect many of the important projects related to furniture designing and pricing that has caused huge trouble for the other member of the Kola Project Team. We believe in teamwork and every member of the team has been given specific charges and units to work on. This kind of chronic absence during important projects can harm the company's repute and economy equivocally.
Meghan, we understand your commitments at home and your kid especially but we cannot put our company at stake. We accept all your impediments in work and that how you are impelled to multitask. You are a single parent to your child and share many of the other responsibilities with your family. You are absolutely an amazing employee and hard worker. We verily need people like you at work who are full of energy and enthusiastically charged to take the responsibilities and tackling tough clients.
With all this description, I continue to say that there are a set of rules and regulations according to which punctuality comes first. No task, without punctuality, can give good output and desired results. Consistency and punctuality are needed to acquire professional commitments and to develop an aptitude for dedication. We are committed to assure our employees a good ambiance filled with better opportunities and career options along with successful and bright projections in the corporate business world. Punctuality is the only trademark of success.
Having said all above, I expect you to improve your lifestyle to get punctual in the office and work with complete focus and concentration. Otherwise, the company can take further notice of your chronic excessive absence. For more discussion, you are welcome to visit my office during visiting hours i.e., 2 PM to 4 PM. I would like to read a response email from you on the same subject at [email] or call me at +[X] during office hours. Thank you.
Regards
Stuart Hall,
Managing Director,
Luxury Styles Designs and Furniture's
4-B/11 Eskil Area, California, USA