1
Dear Mr. Hutcheon, I am Sidney Carton and I have recently been graduated from ABC University and moved to Manchester. I have a double major in mass communication and gender studies and now I am looking for a media position at entry-level in the feminist space that will allow me to bring into use my professional organizational, media, and writing skills.
I have worked as an internee in your company for one year and now I am looking forward to job opportunity to enhance my abilities and to gain profound knowledge regarding media studies and after going through the official page of your company I came to know that you are exactly doing the same work in which I am deeply interested. It is my extreme desire to be a part of your team.
Kindly let me know if there is any such position in your media management and I will apply for all positions in which I will be a perfect fit. I am watching to get positive feedback from you and I am hopeful that if any such position is announced in the future you will remain in touch with me. Thank you for your kind consideration.
2
I have come to know that ABC Organization has announced a nominee regarding the best project and management presenter based upon the past record of five years. After learning this I am deeply interested in attaining that level of exuberance and perfection and curious to know in detail about your organization.
I have the experience of three years of working with Alpha and Omega Enterprises as a research assistant and project manager and I have gained much success there. Now I am hoping to get myself enrolled in one of the best organizations in the town and in my research I have come to know about the interests of your company. I was so mesmerized that our interests are arranged in a line and I am of the view that your company will flourish if I took my deep pockets and research to your organization.
I have mentioned the link to my LinkedIn profile and it would be a great chance for me to have a discussion of how we can work together in the future.
3
Hope you have been doing great. I have the honor of working with you on a contract basis for two years as data operating assistant manager after I left your organization to attain my graduation degree. Now I am looking forward to new career opportunities as it's been a wonderful experience of my working with XYZ Company where I was working as an executive manager.
I have this habit of accepting new challenges and making myself professional and expert in my current field there I want to work in your organization to grow and challenge my skills. It would be a great opportunity for me I am given the chance and I can be contacted via email. Kindly add in your introduction my LinkedIn profile too.
I am much thankful to you for your consideration and assistance. Please let me know via email how I can be of great help to you.
4
I hope you are having a great weekend. I have been keeping pace with you via LinkedIn and it can be thought of as if things are going awe-inspiring and incredible regarding our professional interest. This email is written with the purpose of bringing in your knowledge that currently, I am looking for finding job opportunities in XYZ Industries.
I have a background in data analyst and adapted in Apache and management skills and my speculated position necessitates for an employer that is bestowed with a great mission and that inspires employees to provide their best and who works for the interest of the organization.
As I have the experience of working with you intimately and you are marvelous and majestic. I would love to be informed if I become a good fit for your organization if any opportunity comes.
My resume is attached with this application and I will always be ready to provide any kind of assistance to you. I have a lot of astounding memories of working with you in XYZ Industries and since then I am on good terms with you.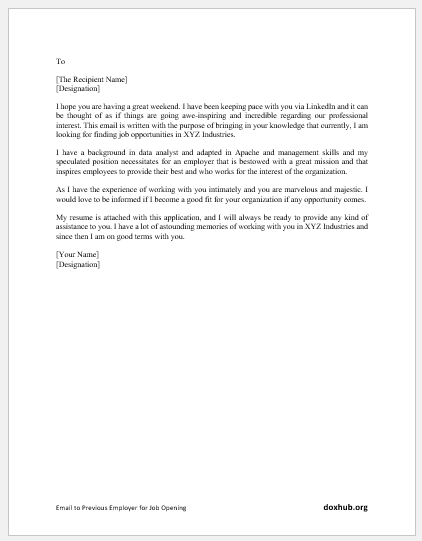 Editable Format: Size = 19KB