Survey Forms
Employee benefits are a large part of the overall salary package. It turns out to be a large cost for companies. Therefore, it is important to evaluate the provided benefits from time to time. In this way, organizations can eliminate unnecessary benefits. At the same time, the most effective employee facilities can be added. This is important for a number of reasons.
Firstly, the best employees can be attracted to work for you
Secondly, it also plays a crucial part in retaining your workers
Evaluation for these benefits can be carried out through annual surveys. An employee benefits survey form can be used for this purpose. Creating such forms is easy through proper templates. A new survey requires new content to be added. This can be done easily through customizable templates. Include relevant question in the form. In this way, you can carry out a general research. On the other hand, adding sections for comments will also be beneficial for the survey. This will help in finding out personal opinions which may differ from one employee to another.
Creating such a layout will be difficult if it is carried out from scratch. However, using a template will make formatting easy and quick. Modifications can be made at any point. You can also adjust the overall size of the form. Make sure that there is enough space in the questionnaire for answers. Using check boxes will make it easier to fill the form. The template will you create the perfect employee benefits survey form.
Preview & Details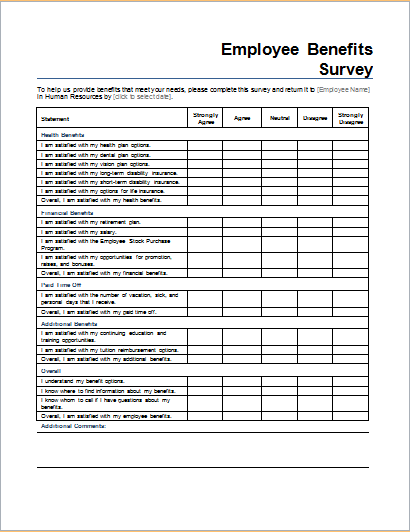 Employee Benefits Survey Form Template
File Size: 60 KB mobile [Android+iOS] & iPad
Download Word (.doc) 2007 & 2007+