TRAINING REGISTERS
When a person thinks to train his employees he can train the people through several ways. But it is difficult to keep track of how much your employees have been trained when there are lots of employees. This template ensures that every part of the job has been learned by the employee and now they have become capable enough to perform any task of the company.
You can download the tracker from the internet in few seconds and it is ready to use. You can save the template on your computer and then you can modify it according to your needs. You can make different versions of your tracker.
First of all, add all the job-related tasks in the tracker which are required in a company and what you are training your employee for. Now with the help of this training tracker, when you get any employee, he will get the needed training from the company. The training becomes fast with the help of this tracker and it also ensures that the training has been successful. You can easily customize it and can use it whenever you want. Moreover, it is very easy to use. You can get it from the internet free of cost. It saves a lot of time of the person. If a company is too large a person cannot keep track of all the people who have been given enough training but this tracker can do it quickly and efficiently.
PREVIEW & DETAILS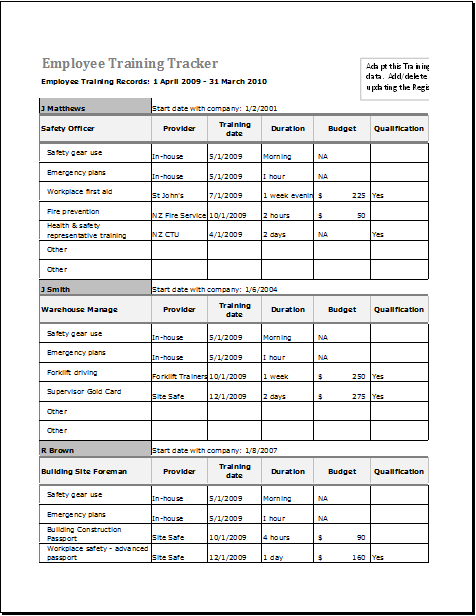 EMPLOYEE TRAINING TRACKER TEMPLATE
File Size: 35 KB mobile [Android+iOS] & iPad
Download Excel (.xls) 2007 & 2007+
File Size: 23 KB
Download OpenOffice Calc (.ods)