BUDGET PLANNING & EXCEL SHEETS
Planning of wedding is a multi-part process with many complexities. The arrangement of the wedding could become a stupendous task for the family as it sips a lot of energy and devotion from the concerned members. Along with many issues occupying the weddings, the issue of wedding budget is one of the major issues. The problem of budget handling can be sorted out by the formation of an appropriate wedding budget planner template. Although the idea might seem to have complex connotations to you, but in reality, it is really simple to form a wedding budget planning sheet.
By using a well-crafted budget template you could correctly access the money you possess as well as a number of expenses you will be having at the wedding ceremony. Without a budget planning sheet, you would always be unsure of your credentials as a manager because you won't know your budget parameters. Through the template, you would be able to explicitly contemplate the wedding demands and your limits.
As you plan to form a budget template for the wedding of your dearest ones you must make sure that you are already aware of all the major and minor requirements of the marriage. By stating your budget limits first, you must dwell upon the major budget expenses at first and then you should move on to other minor budget expenses. Such template would help you to cut down certain those items and events which go out of your wedding budget.
PREVIEW & DETAILS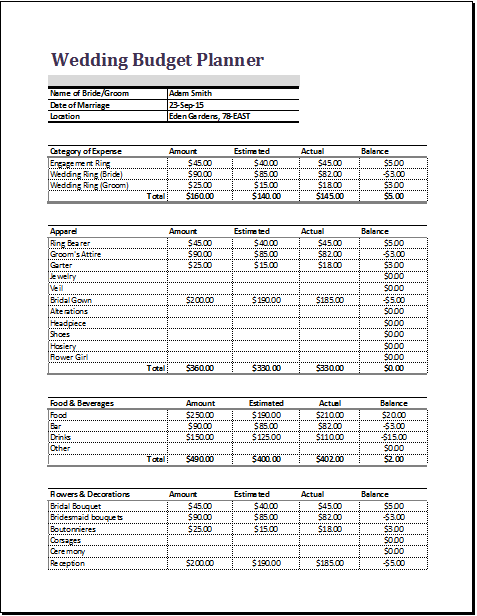 WEDDING BUDGET PLANNING SHEET
File Size: 68 KB mobile [Android+iOS] & iPad
Download Excel (.xls) 2007 & 2007+
File Size: 22 KB
Download OpenOffice Calc (.ods)