A mostly funeral notice is used when people want to inform a huge number of people about the deceased person. When any of the friends to whom the deceased have not met for many years see the funeral notice then he can come to know about the death of his friend. Funeral notices are often published in the newspaper.
It is evident that all human beings have to taste death. Death keeps no calendar and nobody knows when it knocks on their door. Most of the time, it happens that we remain unaware of the death of our beloved friends or family members for longer. A funeral notice is a way of informing all the funeral details of the deceased.
Guide To Write Funeral Notice:
There are some mandatory parts of this notice which should not be skipped. These include;
Complete name of the deceased
His/her nickname
Date of passed away
Nature of death (suddenly/passed away peacefully)
Location of death
Age of deceased
His/her relatives name along with relations
Funeral date
Funeral location
A funeral notice must be brief and transparent. It should contain all the information which is necessary to be provided.
Funeral Notice Via Email:
Besides publishing the funeral notice in the newspaper, there is another approach too which people can adopt. Send the funeral notice to the friends and family members who are away using email.
Let them know about the funeral arrangements, date, time, and venue of the funeral. Hence, they can reach over there as early as possible to show their presence. It is a convenient, quick, straightforward, and useful method. It is a way of updating people about funeral details. Also, mention the name of the graveyard so that if someone gets late due to some reason then he or she may reach over there directly.
Preview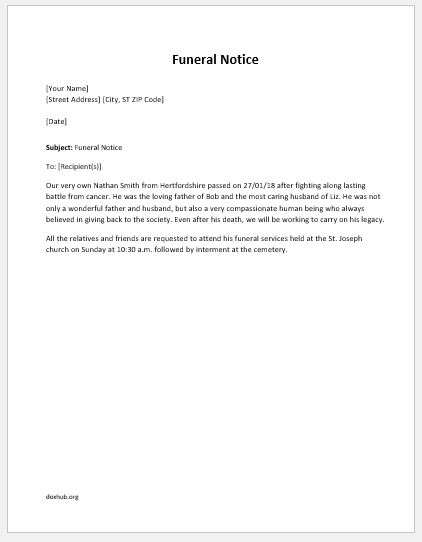 2-
Subject: Funeral Notice
All relatives and friends,
We are sorry to announce the sad news to you. Mr. James, our uncle, has died after a third heart attack at his home the day before yesterday. We are saddened by his sudden death but satisfied that he celebrated his 90th birthday last week. It gives us a sigh of relief that his suffering has been over now, and he will be resting in heaven with his wife Ms. Julia who died three years ago.
He was an active member of the blood donation society and the town church. He spent his whole life helping the people around him. Among his survivors are his five sons, three daughters, and 15 grandchildren.
Funeral services have been planned to be held Friday, January 5 at 4 p.m. at Canal Street, town church, Michigan. All relatives and friends of the departed soul are requested to call three hours before the beginning of services. Contributions may please be submitted to "Fight against the heart attack foundation".
3-
Subject: Funeral Notice
All relatives and friends,
We are deeply saddened to announce this news to you. Our grandfather, who was a patient of blood cancer, took his last breath on Sunday at home. He had been fighting cancer for the last five years. Although we are filled with grief upon his loss but also relieved that his painful battle against cancer has come to an end. We appreciate all our relatives who stayed with us in hospital and supported us in our hard times.
Her funeral services will be conducted on Friday, January 5, at 3 p.m. at holly street church, Michigan. All family members, relatives, and friends are requested to pray for the departed soul. You may send your contributions to the "Fight against blood cancer foundation".