Subject: Halloween Party Invitation at [X]
Dear All, the most interesting time of year is just a week ahead and I have decided to celebrate it in the scariest way. A big Halloween party has been planned and arranged by me and I am looking forward to celebrating it with you and other guys. You are expected to make sure your presence at my place to scare others and be scared in response.
To double the element of fright of this night, I want all of us to do something different. You are suggested to dress yourself up according to any scary character of your own choice. I am hopeful that you will find a suitable one to wear. It must be noted that nobody will reveal his / her identity to anybody to keep the element of excitement on.
So, if you are daring enough to walk amongst ghosts, witches, demons, this party is truly meant for you. Come join us to celebrate the scariest and most awaited event of the year. Dinner will also be served, and the scariest-looking dress will be awarded the cash prize as well.
It must also be noted that this meet-up is subjected to strict compliance with Corona SOPs. Everybody is vulnerable to COVID 19. Keeping this factor in mind, no shake hands and hugging will be allowed.  All ghosts and witches will stay at a minimum distance of six feet from each other. These measures have been taken for our own safety and I hope you will never mind. I am looking forward to seeing all my friends in costumes of ghosts and witches at 28 – Johnson Villas on the 31st of October.
Please inform me through email to confirm your arrival. I am waiting for your response.
Regards,
Neil Johnson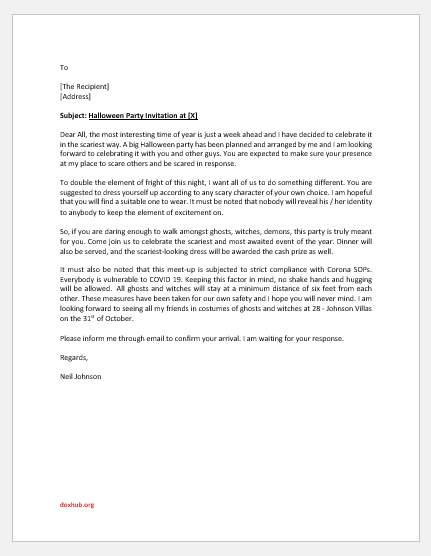 2-
Subject: Party Invitation for Halloween at [X]
Dear All,
31st October, Friday night is going to be full of fright under the shadows of howling wolves and vampires. I think this is the right time of the year to fright and get frightened on the eve of a scary Halloween party. This party is just around the corner, and I want all of you to make sure your presence in my house which has been designed for the same purpose. You will see your October ending in the scariest way ever.
So, dress yourself up for the scariest Halloween party ever. I want everyone to appear as a witch, a ghost, and a ghoul at the party to scare others. Come if you are daring enough to withstand the pressure of black cats, flying bats, and owls. Special spooky dinner and the witch tea party have also been arranged for creatures of horror. So, what are you waiting for? Dress yourself up, wear your mask and meet me at 28-D, Park Villas, Texas. 
Don't forget to observe COVID 19 SOPs during the party. Please avoid handshake, hugging, and keep yourself at a proper distance from each other to eliminate the chances of disease spread. I am eagerly waiting for you on said date and time.
Please confirm your arrival through email. Thank you.
Regards,
Neil Johnson.