BUDGET SHEETS
Holiday shopping could turn out into a difficult prospect for you if you are not careful about your budget. Obviously, the temptation would be to buy all kinds of shopping items from the market, but at the same time, you cannot let the thing go out of budget during your shopping quest. The problem generally leaves people penniless after the holiday shopping only to cause embarrassment afterward. Although people have tried different methods to avoid extra expenses at the holiday shopping but due to lack of proper planning, the budget generally tends to go out of hand.
To avoid the embarrassment of failing budget during the holiday shopping, the budget sheet template could serve the purpose of holding your budget together. Before plunging into the market for holiday shopping, you must consider developing a well thought out budget template that must directly be exercised later during the shopping activity.
During your preparation of template, you must strictly consider the things which you find necessary to find buy during the shopping. Often, we are involved in buying useless objects at first while leaving the important ones at the last. This tendency leaves us short of the budget during the holiday shopping. Therefore, you must consider all the important shopping material at the top of your template before moving on to the other rudiments of your shopping. This template technique would help you to create an amiable mechanism for your shopping exuberance and obviously, you won't be irritated during your holiday shopping due to budget issues.
PREVIEW & DETAILS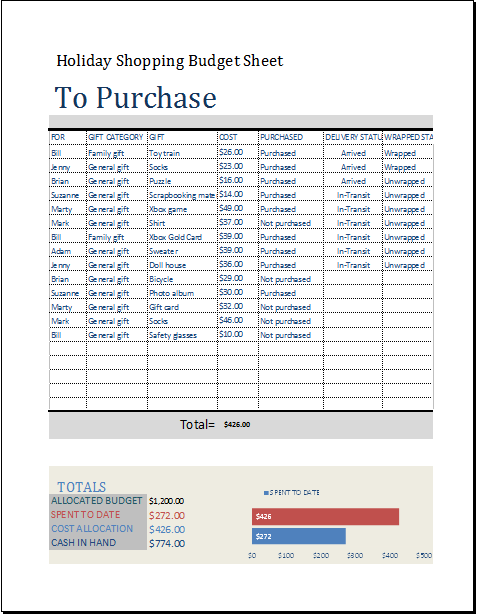 HOLIDAY SHOPPING BUDGET SHEET
File Size: 40 KB mobile [Android+iOS] & iPad
Download Excel (.xls) 2007 & 2007+
File Size: 22 KB
Download OpenOffice Calc (.ods)