HOME REMODELING
One of the most difficult tasks is to remodel your home. Along with several other complexities of remodeling home, the concern about the budget management is also one of the major problems faced by many families who make their mind up for the remodeling of the house. Though all other problems in regard to construction are pertinent, but the most sensitive issue in regard to remodeling of the home is the management of the budget. But effective management and planning could solve some of the major budget issues for you, yet on the other hand, if budget management is not up to the standard, the whole theme of remodeling home could fall down in an embarrassing way for you. Therefore, an effective home remodeling budget plan must be taken into consideration in order to make the process feasible for you.
Firstly, you must consult an expert in home remodeling to measure down the possible expenses on the whole process. The expert in the field could provide you with the appropriate estimate of the whole process. After proper estimation of expenditure, you must dwell your energies to create a budget template.
The budget sheet template would help you to independently access all the expenses and possibilities appropriately. Without a proper budget sheet, you won't be able to access the total expenses, and therefore, it would arduous for you to make a comprehensive budget in regard to house remodeling. After the formation of all budget rudiments in the form of a template, you would be able to aptly apply your skills at remodeling your home.
PREVIEW & DETAILS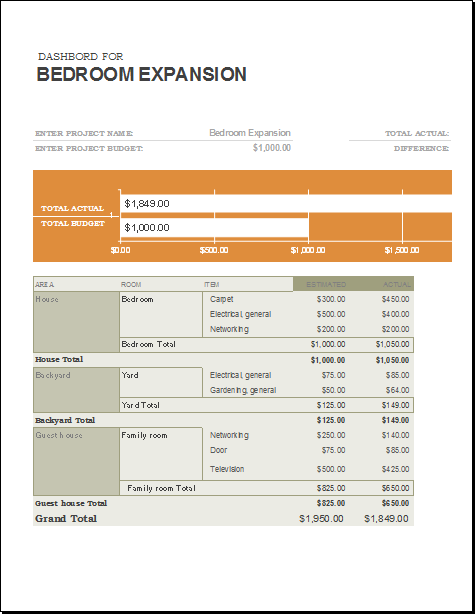 HOME REMODEL BUDGET SHEET
File Size: 78 KB
Download Excel (.xls) 2007 & 2007+
File Size: 26 KB
Download OpenOffice Calc (.ods)