A letter of discipline is written to an employee in order to address an issue at work. It may be due to his insubordination, a performance failure, unprofessional behavior, complaints from co-workers or other work-related problems. This letter is written by the authorities in order to take the issue into consideration. It serves as a means to give a warning to the employee or reprimand him.
Discussed below are the general guidelines for composing a disciplinary letter for an employee.
The letter begins by stating its purpose. Describe the issue you are writing in response to. The employee must know exactly what the management's complaint is regarding his performance or behavior at work.
Discuss the Negative Impact of the Issue on the Organisation
Let the employee know how his declining performance, certain work failures or other complaints may affect the overall success of the organization. The issue may also negatively impact the employee's own career. It is important to include this brief discussion in this letter in order to emphasize why the issue cannot be overlooked.
Provide Possible Solutions
Possible solutions can be presented in the letter to address the issue. You may state relevant company policies here which must be followed.
Inform about any Subsequent Action
The employee may be required to attend a disciplinary meeting. Provide information about the date, time and venue of the meeting in this letter. Likewise, this letter should inform the employee about any action the management has decided to take in response to the issue under discussion.
Provide a Deadline for Improvement
You may define a certain timeline for the employee for performance improvement. State clearly what this timeline or deadline is.
State the Consequences of Non-Compliance
Do state what may happen in case the employee still carries on with his unprofessional behavior or fails to achieve work goals. He may face suspension or termination. Provide him a warning so that he takes this letter of discipline seriously.
Sample Letter -1
The management has received several complaints about issues regarding your behavior with clients. Let me remind you that the company does not allow any unpleasant attitude with its valuable customers regardless of the circumstances. This matter is, therefore, of serious concern.
Our behavior with our clients determines the company's reputation as well as popularity. A single disgruntled client may result in a significant loss of business for us. Moreover, in order to beat the competition in the market, we must focus wholeheartedly on winning over our clients. However, your disregard for this important policy has raised serious concerns regarding your services. You are accordingly required to attend a disciplinary meeting on Monday, 24th April at 10 am in Conference Hall 2.
Attending the meeting is mandatory. Please be punctual.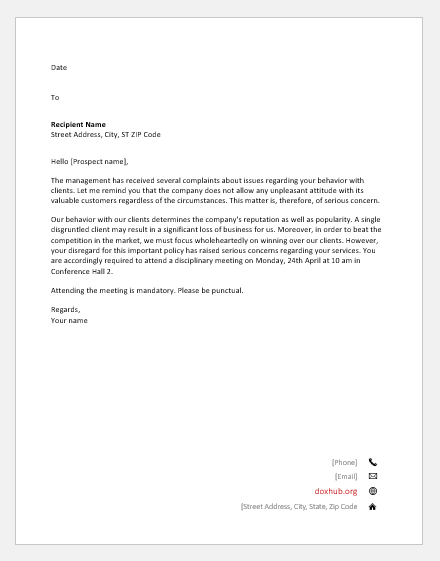 Sample Letter -2
This is a written warning against your declining performance at work. As discussed in our meeting on Tuesday, you are required to show a noticeable improvement before your next quarterly performance assessment.
When you were hired as our employee two years back, your performance appeared promising. However, over a period of time, you have lost your focus. You must replenish your energy and passion for work. We would like to see you perform to your full potential.
You are advised to follow all the suggestions provided to you during our meeting for the improvement of your work performance. Let us remind you that failure to achieve your project goals before the provided deadline may lead to your termination. You must, therefore, take this warning seriously.