An authorization letter is written when an individual or organization gives legal control of a task to another individual or company. It is an official document and must be issued with careful consideration as it makes someone lawful in-charge of a certain situation.
One of the situations in which an authorization letter is issued is when you appoint a lawyer for your legal representation. This letter gives the attorney permission to represent your case in court. Through this document, he gets control of all legal proceedings and decisions on your behalf. Therefore, while writing this letter, make sure you explain clearly your approval for what you are authorizing him to do. Any implications or ambiguities should be avoided. Discuss your terms and conditions as well and ask for his approval before proceeding further.
Here are the guidelines for composing an authorization letter for your legal representation.
Start your letter by stating the reason you are writing for. Lawyers and law firms usually have extremely busy schedules. Therefore, make sure you get to the point right away. Provide your authorization for legal representation for yourself or on behalf of another individual or organization. Clearly, state that you are appointing the reader to carry out the legal proceedings for your lawsuit or any other legal matter.
Briefly Discuss the Details of the Case
Use a few lines to describe your case. However, refrain from getting into lengthy details. You may enclose additional information as well as relevant documentation with this authorization letter in order to provide in-depth details about your case. You may also set a date for a meeting for further discussion.
Accept the Lawyer's Conditions
Since you are appointing the lawyer, you need to agree to his conditions so that further proceedings can take place. For instance, you should state that you agree to his hourly rate and fees.
State your Own Conditions
There may be certain terms and conditions you want your lawyer to agree to. State all your conditions clearly in order to avoid future complications.
Seek the Lawyer's Consent
It is important to make sure that your lawyer agrees to all the terms set by you. You may ask him to provide a verbal or written acknowledgment. The relevant document can be enclosed with this letter to be signed by the lawyer in order to provide his formal approval.
This authorization letter is a formal piece of document. Therefore, the writer needs to maintain a tone that is appropriate for these kinds of letters. Moreover, it is also important to focus on the content of the document. You should refrain from adding any emotions or personal opinions regarding your case. In addition, the reader must be addressed formally even if you know him as a friend.
It is the reader's right to either accept or reject your offer. Therefore, let him know that you await his response.
Sample Letter -1
On behalf of XYZ corporation, I authorize you to represent us for our legal case against Mr. Meezo for breach of our contract with him. A copy of the original contract has been enclosed. You will also find attached a copy of the company's official warning letter issued to Mr. Meezo for breaking the contract. We would like to arrange a meeting with you in order to discuss further details.
The company has agreed to your hourly fees of $350/-. An advance payment amounting to $10,000/- will be paid to you before the first court hearing. The rest of your payment will be made after our case has been resolved.
Kindly let us know if you agree to the above-mentioned terms set by the company. In case you don't accept the payment conditions, or cannot represent us due to any reason, please inform me so that the company may look for another alternative in a timely manner.
We look forward to your response.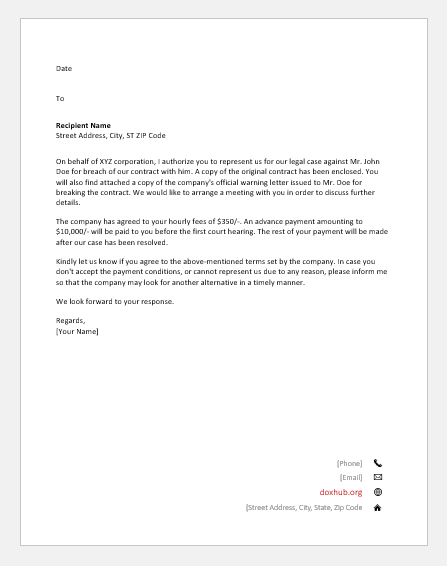 Sample Letter -2
I authorize you to represent my lawsuit in the court on the 12th of June and proceed with the case until it has been resolved. As discussed with you in our meeting, I am defending myself against Mr. XYZ who has filed a case of human rights violation against me. I have attached the necessary documents with the letter. Kindly let me know if you need any additional information.
I will pay you $100 per hour according to the charges requested by you. If you agree to be my legal representative for the mentioned case, kindly sign the enclosed form and mail it to me immediately.
I await your response.