1-
I am Daniel Defoe, the manager o ABC Bakers situated in Michigan, Street 679. This letter serves as a notice to wear masks in bakery premises strictly. 
Mr. Pope visited the bakery on Monday as a surprise visit where he found the staff member filling up and packing food items while not covering their faces with masks. He also noticed that workers had not worn gloves to cover hands. This thing comes under the breach of rules that have been set by the department of food authority. Food Authority of Harington has issued stern guidelines for wearing masks and gloves and according to their rules, the one who is found neglecting and violating the rules will be dealt with strictly and accordingly.
This was so embarrassing moment for me when he found that none of you is following precautionary measures. I had already told you many times that on the bakery premises you have to wear masks properly. You all were found not complying with the rules. This kind of attitude is totally unacceptable.
As you know that the whole world is facing a pandemic and the best solution to avoid it is to cover your face with masks and be at a distance from others. Mr. Daniel's early visit to AB Bakery was also of the same kind where our staff was found in the same situation. You all were provided with proper guidelines to tackle safety problems and better your hygienic ambiance. In spite of all this, you are found not abiding by the rules and regulations of the food authority department. It clearly indicates that you are not resenting to better your behavior and paving a way to strict action.
This letter serves as a final notice to all of you to wear face masks to improve the hygienic conditions of the bakery. In case if you are found violating the rules then you all will be dealt with strictly. I hope that you all will comply now with safety measurements.
Regards,
Daniel Defoe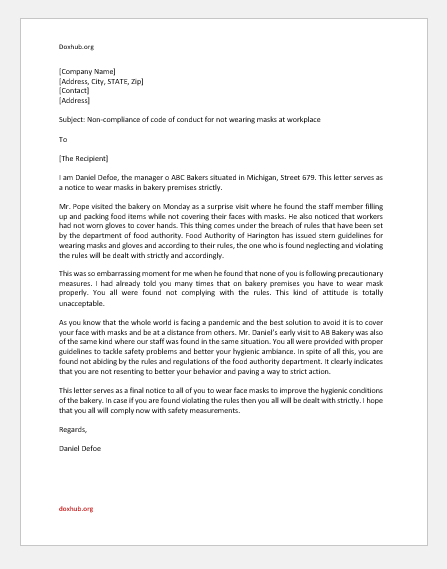 2-
Hope you all are doing well. As you all know that country is passing through COVID-19 and to respond to it almost every country in the world is taking measures. Our organization has also considered methods to comply with this pandemic to save our employees and following instructions given by governmental executives. The organization is of the view that dealing with it is compliant. So, for the safety of all of you, it has been made mandatory now to cover your faces with masks hence there would be fewer chances of the transmission of this virus.
The organization will provide all of you with a box of face masks voluntarily for use. Although these are not totally respirators but to somehow, they will provide you protection against the airborne virus droplets.
Use this mask for covering your mouth and nose. Before using it, read the directions carefully that are provided to you. Wash your face and hands after removing the mask and wash your hands before touching your face. Do not wear the mask if it is causing trouble to you in breathing. Do not hang it around your neck and avoid while going back home and waste the mask if it has been damaged.
In case if you observe the symptoms like difficulty in breathing, flu, and fever then contact your Head of the department immediately. If anyone amongst you found violating the rules then strict action will be taken against you and you will be charged for not wearing masks. I hope that you all will follow the rules strictly and this would be beneficial both for you and others. Thank you.
Regards,
Alexander Defoe