1-
I [name] have been serving in the [department name] since [year] as [designation]. I have attended all the in-house training sessions held in this period and my performance in them has always been excellent as recognized by my team leader in his assessment reports. I have also been a part of the team that undertook the project [project name]. As you know that this was a very important project for our company and I along with my team put in our best efforts and burnt the midnight oil to ensure that this project is a success and brings laurels to the company which was reflected in the results we got.
We were assured that based on how the project fares, our pay structure would be reviewed. Despite the project being a huge success, we have not received any pay review. Also on this [date], it would be [number] years of my service which alone is a criterion for a pay review. please review my pay structure as a pay raise is long overdue.
As you know that the constantly rising inflation rates and the demands of a young family make it very difficult to make the ends meet. I am under a lot of financial stress which is taking a toll on my mental health and is affecting my ability to focus on work. Please look into this matter at your earliest.
Looking forward to your consideration and expeditious response.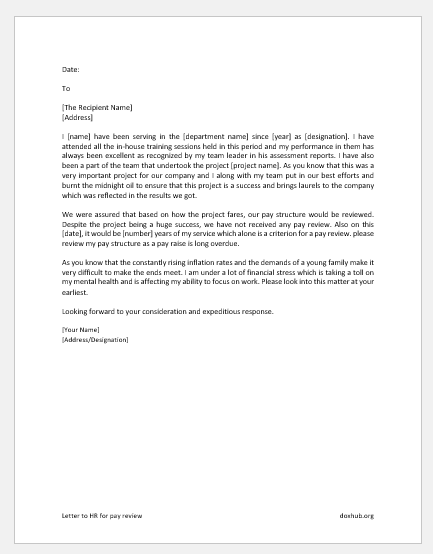 2-
I [name] am serving as the headmistress in the [name] branch of your prestigious school. I joined as an English teacher for grade three in [year] and have worked my way up to my current designation. My dedication and devotion to our school are known to all. Last year we opened our senior branch. It was a huge task, from hiring experienced senior staff to convincing the parents of the middle school students to continue with us despite being new, instead of going to older more established institutions. I am proud to say that the [IGSC / Cambridge] results of our students are proof of the amount of hard work we have put in.
In addition to this our [other] branch was left without a headmistress due to the sudden departure of Ms. [name]. May her soul rest in peace. She was a very competent administrator but in her absence problems started sprouting very quickly. Due to the physical proximity of the two branches, I was assigned the task to handle the affairs of the [other] branch too, until an appropriate replacement could be arranged. So practically I am performing the duties of two individuals at the moment.
It is an honor to serve my school but this increased workload is taking a toll on my family life and my health and I feel that due to all the aforementioned reasons I deserve a pay raise. I would be very grateful if you look into this matter and direct the HR department to review my pay structure.
Looking forward to your consideration.