Maintaining correspondence with a client on special occasions contributes towards a healthy relationship with him. It is important to focus on your friendly relations. This, in turn, helps you strengthen your business association. Sending greetings on holidays, birthdays and anniversaries make the client feel appreciative for your consideration.
It is also an effective way of strengthening your ties by making him feel special from time to time. One of such occasions to note is the anniversary of your customer's company. Since you are also associated with this business by providing your services to the client, it is quite an important occasion. In this case, your client may be an individual or an entire organization. 
Here are some guidelines about writing a letter to wish your customer on the anniversary of his company.
The primary purpose of the letter is to congratulate the client on this achievement. It is an auspicious occasion for him since it marks his success and accomplishment. Therefore, begin the letter by expressing your pleasure at the happy occasion. You may state how you found out about the anniversary – for instance, through the local newspaper or an official announcement. Mentioning the source of information will make the customer feel that you are considerate enough to pay heed to important news about him.
Appreciate the Client's Success
Acknowledge the fact that the anniversary of your client's company is an important milestone for him. Appreciate him for establishing himself successfully. Moreover, praise him for the work he is doing in the form of the products or services he offers.
Give a Specific Compliment
After expressing general appreciation, give compliment for at least one specific quality or achievement of the client's business. For instance, you may discuss how his services or products stand out from the others. You may also mention any awards or honours he earned as an entrepreneur. This part of the letter will make him feel obliged and flattered, thereby strengthening your cordial relations with him.
Thank the Client for Giving you Business
Show your gratitude for being associated with a successful entrepreneur. You may state that it is an honor for you as a vendor to be serving an accomplished company. Thank your customer for giving you this opportunity.
Express Optimism towards Future Business Relationship
Wind up the letter by wishing your client the best for the future of his company. At the same time, also express positivity towards your business relationship with him. Show your interest in serving your client for many years to come.
Here are two sample letters following the pattern discussed above.
Sample Letter -1
ABC Corporation wishes you sincere congratulations on the 10th anniversary of your company. Your remarkable growth within a decade is a time for true celebration. We are proud to serve you as our most prestigious client.
Your success story is an inspiration for all entrepreneurs. Starting your business from a small studio at your house, today you are operating 10 outlets all over the country. Undoubtedly, your persistence and hard work have contributed towards your achievements.
It is an honor for us to be associated with you. Thank you for choosing our technical team for your outsourced tasks. We really value our business relationship with you.
Once again, congratulations on accomplishing an important business milestone. ABC Corporation wishes you the best of luck for your future and hopes to further grow its business with you.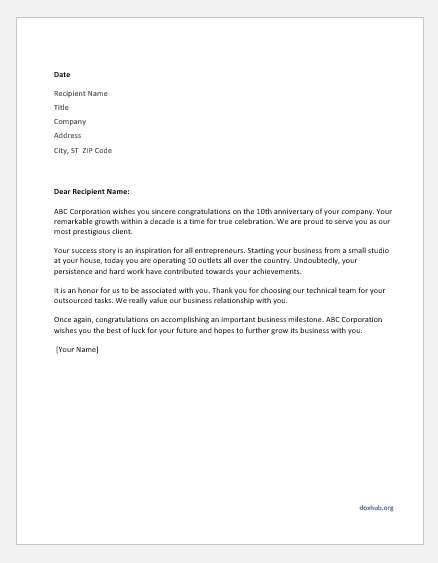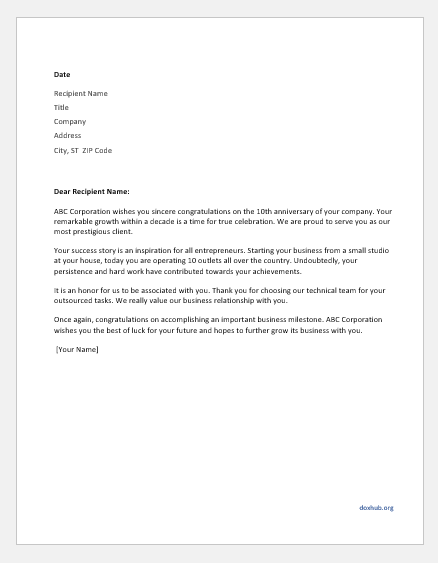 Sample Letter -2
We are pleased with the announcement of the 5th anniversary of your company – XYZ. Congratulations on this achievement. 
You have been able to establish your name successfully despite the big competition in the market. XYZ is among the most sought-after brands in the fashion industry today.
You set a new record last year by winning the National Best Quality Award in such a short time. We applaud the hard work behind this accomplishment.
Thank you for providing us the opportunity to serve you. It is a pleasure for ABC advertising agency to plan and run ad campaigns for your brand. We really appreciate the trust and faith you put in our team. We look forward to a long business relationship with XYZ.