Sample -1
Re. Maternity Leave from [DATE] to [DATE]
Reverend Sir, I am [NAME], working as a [DESIGNATION] since 20XX in this school. I have been teaching [SUBJECT] since 20XX and it yielded in the form of a magnificent performance by the students every year in their final examination. As being worked here for [X] years, I understand that I should not be on leave for a long time as it may disturb the momentum of the studies and impact immensely on the final grading.
Referring to our discussion about my pregnancy and the maternity leave policies held in your office, I am writing this to request you my maternity leave as my third trimester starts. With the advent of this difficult time, I do not deem myself fit for the services I have to perform being a teacher. I want to stay on three months' leave from the school as I would not be able to come to the school regularly and would not be able to work.
Compromising on the teaching standards would not be a choice, therefore, I understand that I should stay on leave and refer my substitution during this period. I need three months' leave owing to some complications related to my blood pressure levels and other related to the child. I have enclosed my medical reports as evidence and for record-keeping.
I shall remain on leave till my delivery. According to my gynecologist, my delivery is expected to be natural with natural induction. Thus, I would stay on leave from [DATE] to [DATE]. In case of any change in the schedule of the leave, I will inform the manager. I shall be grateful to you for the approval of my maternity leave. Thanks.
Regards.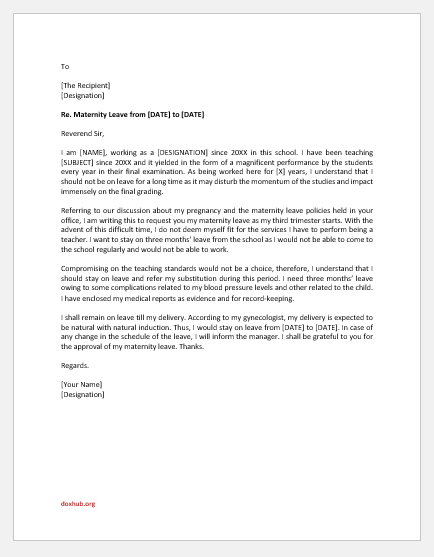 Sample -2
Re. Maternity Leave Application According to the [MENTION MATERNITY LEAVE POLICY OF THE SCHOOL AND FEDERAL GOVERNMENT'S RULE OF LAW]
Dear [NAME],
This letter serves as an application letter as I request you to grant me leave for three weeks as my delivery time is near. According to the [MENTION LAW & POLICY], I am licit to take a three months' maternity leave from work. To avoid any complications, my medical care provider has instructed me to stay at home and not to take working pressure of any kind.
In addition to the prescribed rest, I understand that I should take a few days off from work. My doctor anticipates the birth on [DATE]. The birth delivery has to be done by the scheduled cesarean; thus, I will not be able to get back to the work before [DATE].
As I teach [SUBJECT], one of the most important courses with a lengthy course outline, I request you to provide the students with the best substitution so that they do not waste their time and it does not impact their results in a bad way. I believe, Mr./Ms. [NAME] is the best substitution during this period of my leave from work. Thus, I request you to grant me leave from [DATE] to [DATE].
My leave shall be effective from [DATE] after your approval. I have provided all the data related to the course outline and course summary to the manager. For more, I shall be available at [EMAIL]. As these days mark an intense period for me, I request the authorities to not call me for trivial matters. In case of urgency, I shall be available at [PHONE]. Thanks.
Regards.