Re. Proposal Letter w.r.t the Request for Proposal on [Date]
Dear Client, first of all, I thank you for approaching our production house and asking for a proposal letter for the project detailed in the proposal request. We are very excited to submit this proposal letter to you and look forward to considering this proposal letter an achievement and settlement of our clientage.
Our media house was built in 20XX and has been providing services of various types in the field of short script videos, short films, documentaries, TV shows, modeling campaigns, commercial campaigns, and many others. We have several departments and each department works in a specific zone to assure quality and content value.
We have a team of scriptwriters, playwrights, and content idea heads who look after the content in content creation, editing, and improvising the content. We have a team of IT specialists who along with our videographers and DOPs look at the filming of the content. Our media outlet has been excelling in its field for more than a decade and we are proud to serve our clients with valuable and distinguished services.
For the current project, we will provide you following services;
The pre-production phase of consultation will include a number of meetings and other sessions to discuss the content, the idea behind it, the target audience, and the animation provided to the content.
In the production phase, our team will provide complete services including production, assistance in direction, content management, IT-related works, camera and equipment, videography, and locus of the filming.
In the post-production phase of our project, we will provide you with quality enhancement services including polishing of the content, editing, and content management tools.
In the end, we will provide you with a final copy of the media production that can be then used for the desired purpose.
This project will cost you $[$] considering the market value, market trends, and expenditure involving the project. We will provide quality and value content and production at the mentioned cost. However, we are open to further negotiations related to each aspect of the project.
To conclude, I thank you for considering our project proposal. I assure you of good quality and the value-added services including extras asked. We prefer value over monetary benefits as our media outlet has been serving and earning a high name in the market for several years. Please let me know if you need templates or reviews on our projects for your convenience to make a decision.
Please do not hesitate to ask if you have any queries. Thank you.
Regards,
[Name]
[Position]
[Name of the Media Outlet]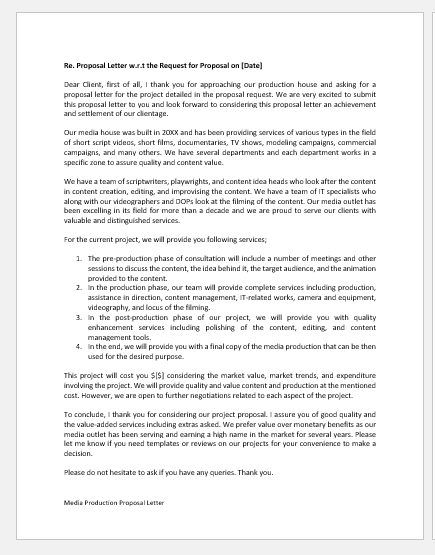 (Sample #2)
Re. Media Production Proposal for the Filming of a Documentary on Child Abuse
Dear Client,
I received your request for a proposal in which you mentioned your desire to have a proposal on the filming of a documentary based on a true story. We have studied your script thoroughly and understand the idea completely. Having looked at the instructions and project requirements, our team is of the view that we are able to undertake this project within the given deadline.
Project Overview:
The project is about shooting a short film cum documentary which is based on the script submitted to our team. The content is about child abuse and increasing issues related to abuse and rape in third-world countries. The project includes filming, video graphing, and final editing of the project. Moreover, the project requires a complete team of professionals to execute the project including cameramen, DOPs, producers, and other workers including makeup artists, music directors, and all.
Proposal:
To achieve the desired goals and give reality to your beautiful story, our team is one of the best who is dedicated and professional to create great cinematography including videography, filming, and editing. Our team is capable of giving you a real state-of-the-art service to achieve the desired results.
To do this project, an amount of $[x] will be the cost. The cost is negotiable with further discussion, moreover, in case of additional services, we will provide you with different discounts.
If you are interested in working with us, we assure you of high-quality and valuable content. Please let us know of your plans at [email address]. In case of further questions, we can arrange a meeting and negotiate the ideas. Thank you.
Sincerely,
[Name]
[Company]
[Signature]