Letter -1
I am documenting this letter to inform you about my absence from Tuesday 10th through Friday 13th of this month. Unfortunately, I also caught severe viral infection which has affected many people in past few days.
Due to high temperature and unavoidable fatigue I couldn't come up and perform my duties at work. As the virus can be transferred easily to others so I sincerely thought that having a little rest at home will be better for me and my fellow employees. However, I do apologize for any inconvenience it has caused. And want to compensate that for the coming weekend if it is required in any way.
Please let me know if you need further information on this issue. I'll be providing all necessary details. Download
---
Letter -2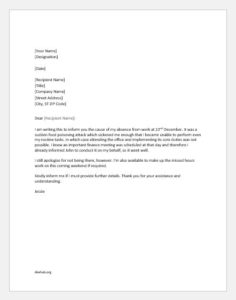 I am writing this to inform you the cause of my absence from work at 22nd December. It was a sudden food poisoning attack which sickened me enough that I became unable to perform even my routine tasks. In which case attending the office and implementing its core duties was not possible. I knew an important finance meeting was scheduled at that day and therefore I already informed John to conduct it on my behalf, so it went well.
I still apologize for not being there, however. I'm also available to make up the missed hours work on this coming weekend if required.
Kindly inform me if I must provide further details. Thank you for your assistance and understanding.
---
Letter -3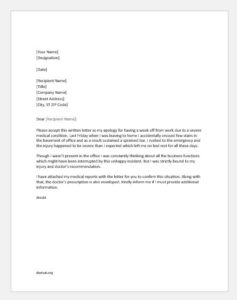 Please accept this written letter as my apology for having a week off from work due to a severe medical condition. Last Friday when I was leaving to home I accidentally crossed few stairs in the basement of office and as a result sustained a sprained toe. I rushed to the emergency and the injury happened to be severe than I expected which left me on bed rest for all these days.
Though I wasn't present in the office I was constantly thinking about all the business functions which might have been interrupted by this unhappy incident. But I was strictly bound to my injury and doctor's recommendation.
I have attached my medical reports with the letter for you to confirm this situation. Along with that, the doctor's prescription is also enveloped. Kindly inform me if I must provide additional information.
---
Letter -4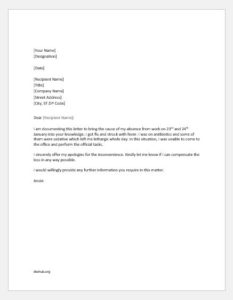 I am documenting this letter to bring the cause of my absence from work on 23rd and 24th January into your knowledge. I got flu and struck with fever. I was on antibiotics and some of them were sedative which left me lethargic whole day. In this situation, I was unable to come to the office and perform the official tasks.
I sincerely offer my apologies for the inconvenience. Kindly let me know if I can compensate the loss in any way possible.
I would willingly provide any further information you require in this matter.