Letter -1
This letter has been formally documented to bring a serious matter to your notice about your unethical and unprofessional behavior in office premises. The management has verbally informed you many times even before regarding this issue. Since you pay no heed to those warnings we must take a strict step this time.
You might be aware of our company's code of conduct and our strict policies in following ethics and etiquettes so if you continue this job with your unethical behavior and won't stop spreading mismanagement in office, we have every right to take legal action against you in future.
We hope that this written warning would serve the purpose and you will rectify your behavior. It would be beneficial for both you and the company to keep on progressing without unhappy incidents in the future. Download
---
Letter -2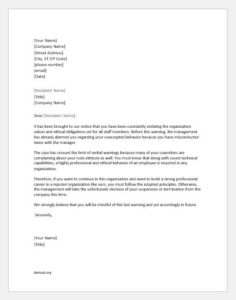 It has been brought to our notice that you have been constantly violating the organization values and ethical obligations set for all staff members. Before this warning, the management has already alarmed you regarding your unaccepted behavior because you have misconducted twice with the manager.
The case has crossed the limit of verbal warnings because many of your coworkers are complaining about your rude attitude as well. You must know that along with sound technical capabilities, a highly professional and ethical behavior of an employee is required in any organization.
Therefore, if you want to continue in this organization and want to build a strong professional career in a reputed organization like ours, you must follow the adopted principles. Otherwise, the management will take the unfortunate decision of your suspension or termination from the company this time.
We strongly believe that you will be mindful of this last warning and act accordingly in future. Download
---
Letter -3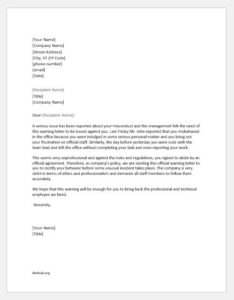 A serious issue has been reported about your misconduct and the management felt the need of this warning letter to be issued against you. Last Friday Mr. John reported that you misbehaved in the office because you were indulged in some serious personal matter and you bring out your frustration on official staff. Similarly, the day before yesterday you were rude with the team lead and left the office without completing your task and even reporting your work.
This seems very unprofessional and against the rules and regulations, you signed to abide by an official agreement. Therefore, as a company's policy, we are sending this official warning letter to you to rectify your behavior before some unusual incident takes place. The company is very strict in terms of ethics and professionalism and demands all staff members to follow them accurately.
We hope that this warning will be enough for you to bring back the professional and technical employee we hired. Download
---
Letter -4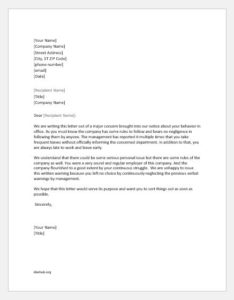 We are writing this letter out of a major concern brought into our notice about your behavior in office. As you must know the company has some rules to follow and bears no negligence in following them by anyone. The management has reported it multiple times that you take frequent leaves without officially informing the concerned department. In addition to that, you are always late to work and leave early.
We understand that there could be some serious personal issue but there are some rules of the company as well. You were a very sound and regular employer of this company. And the company flourished to a good extent by your continuous struggle.  We are unhappy to issue this written warning because you left no choice by continuously neglecting the previous verbal warnings by management.
We hope that this letter would serve its purpose and want you to sort things out as soon as possible. Download