Letter -1
Re. A Welcome Note for the New Job as an Assistant Director Recruited on 20-01-20XX

Dear Alexie,
I am composing this letter on behalf of the [Company Name] family. [Company Name] is a team that works as a family and stands by through thick and thin by giving their best. I on behalf of my team welcome you to the dedicated and industrious group of [Company Name] Pharmaceutical Company. Your joining date is 25th January 20XX and I hope you will join the team of this company with full zeal and ready to give the enthusiastic and zealous deal of work. I found you a very competent and talented pharmacist who can work as Assistant Director to perform all the required tasks single-handedly. Your approach towards business and the world of pharma industries were quite different, practical, and attractive. I was amused by the leadership qualities you possess.
I had already finalized during the interview that you are the best suit for the job. I hope you will utilize your potential and put all the energies to make this industry one of the country's topmost pharmaceuticals through honesty and dedication.
I have forwarded all your details to the HR department who will guide you through this. Your timings and days of working shall also be looked up by the HR Department. You are advised to meet me in person on the day of your joining the office. You can contact the HR office by writing to [X] or call at +[X].
Regards
Simon Gel
The CEO, [Company Name] Pharmaceutical Company
34-A, Fifth Avenue, Opera Hall Road, California, USA.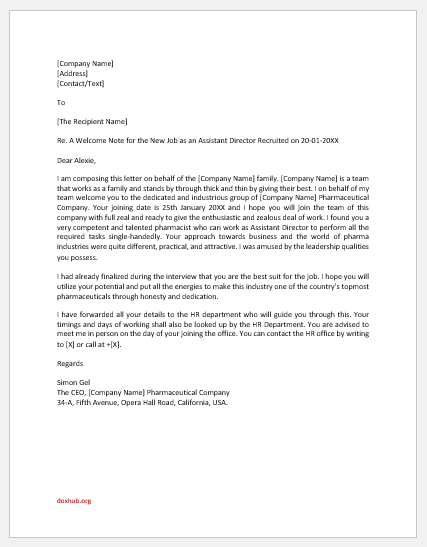 Letter -2
Re. Welcoming the New Assistant Operation Manager on Joining the Team of Luca-O Trends IT and Software [X]
Dear Jenny,
I am overtly delighted and cordially congratulate you on securing the position to fulfill the vacant designation of Assistant Operation Manager. This vacancy was lying empty for two months and it was not filled because of some internal affairs of the company. I am elated to share that those problems have been settled now and we have recruited you to the designation considering you the most competent for the post and most deserving among all the candidates.
Your interview went very well and it was highly acclaimed by all the panelists. Your name was finalized on the recommendation of all the panelists who were inspired by your wonderful academic performance in your educational background and wonderful qualified experiences from great firms. Looking at your leadership qualities and presentation skills, the panelists decided to recruit you with immediate effect.
I hope you will not let our expectations faint and will keep up with our bright expectations. We really need young talent and efficient skills for the performance of the tasks of the Assistant Operation Manager.
Please feel free to contact the company for any query by dialing +[X] or write to us at [X]. Your joining date has been confirmed for 25th January 20XX. Your schedule and timings can be enquired from the Human Resources. We thank you for being part of this team and wish you all the best for the novel endeavors in your career at [Company Name].
Regards
Leo Cooper
The CEO, [Company Name],
23-A/45 Steven Heights, California, USA.